Automation, employee amenities, and sustainability are just a few considerations for achieving longevity and efficiency from your food processing plant design.
Enduring Facility Design
Work with our team to design your food processing facility for sustainability and longevity. Contact Us
Companies don't tackle the architectural design and layout of their food processing plants every year—or even every ten years. Facility design requires a long-lens approach: How might the industry change over time? How will consumer trends drive production? What concerns and challenges lay ahead?
Having insight to those questions is key to creating a cost-effective design that's relevant for decades to come. Based on what we're seeing in the field, here are seven areas we think will play a significant role in the future of food and beverage facility design.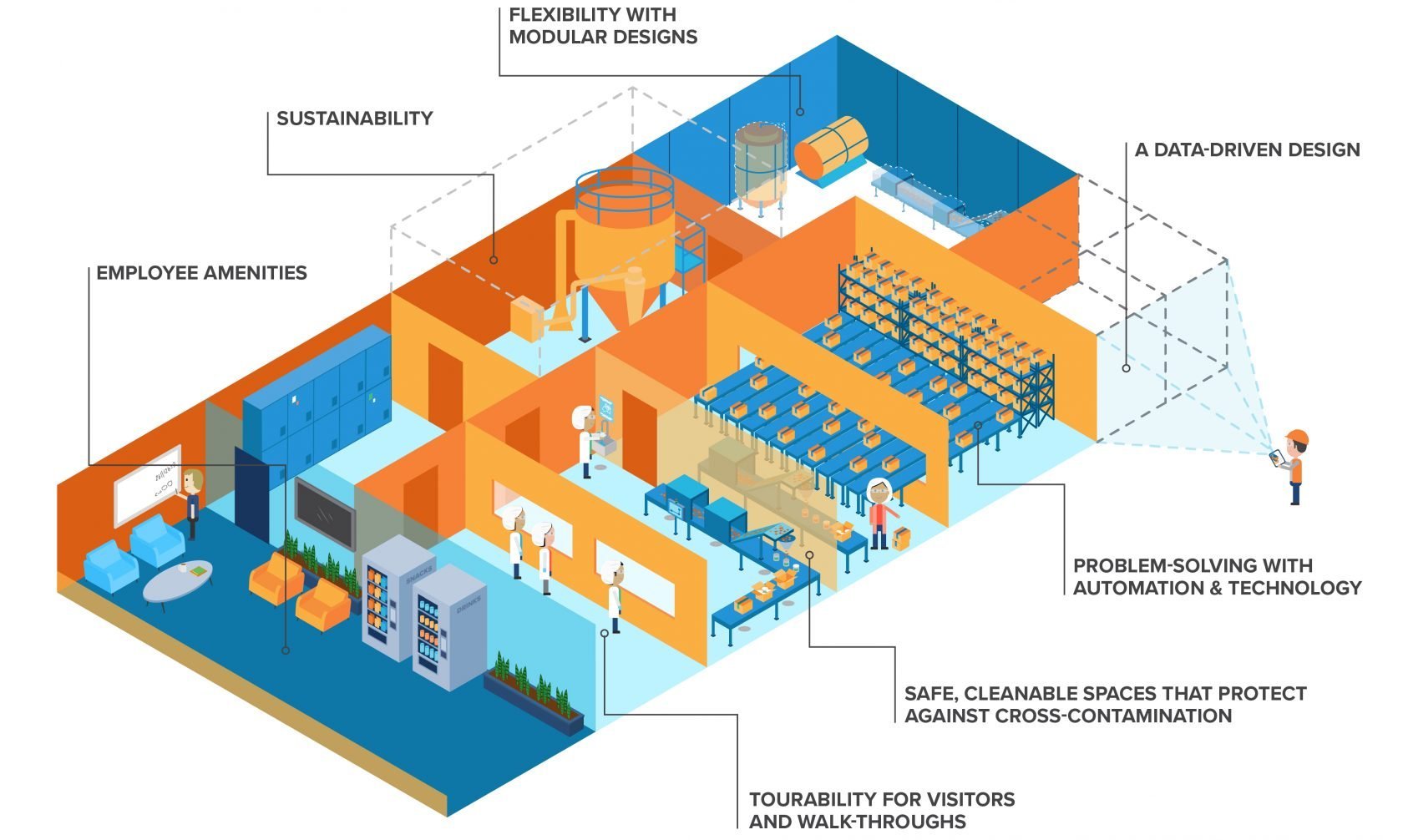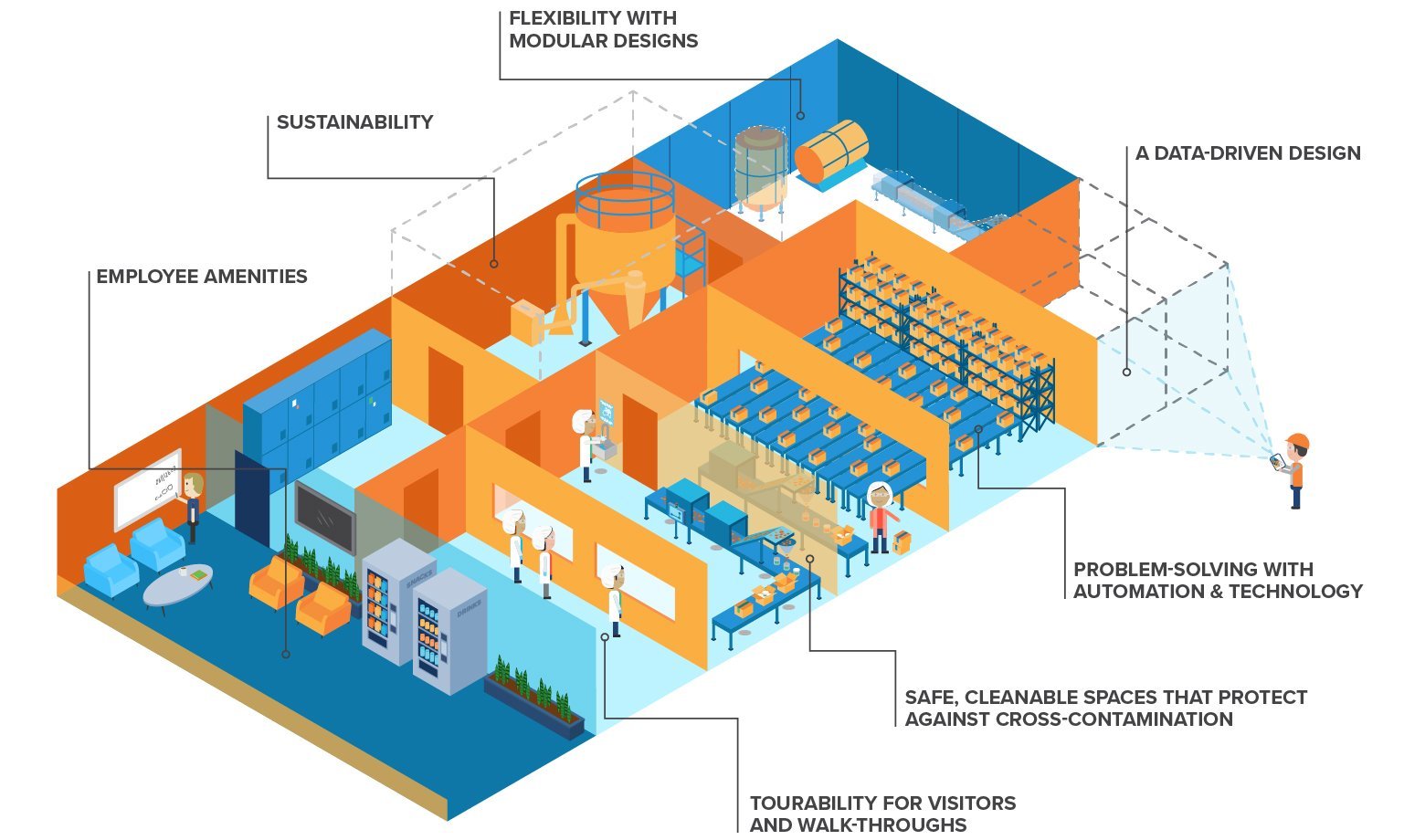 Safe, cleanable spaces that protect against cross-contamination


Protecting food processing plants against cross-contamination is, and will remain, a top concern for manufacturers—regardless of whether they're upfitting facilities or building from the ground up. The continuing dominance of fresh food will up the ante as companies sharpen their focus on what's considered ready-to-eat versus raw.
These two components play a vital role in that process.

Segregation of spaces: Design features must meet FSMA compliance and guard against cross-contamination. Segregation is holistic and distinct. A plant segregates allergens: raw vs. cooked and clean vs. "dirty." Essentially, clean spaces should be barricaded from contaminants. There are obvious ways to do this—with physical barriers—but there are other, more intricate, aspects to consider: the proper amount of space between air inlets and exhaust, even room pressurization strategies. Insulated metal panels go a long way when it comes to space segregation. They're also excellent thermal and vapor barriers.
Cleanability: There are many enemies of sterility: condensation, foot traffic, hygiene of the plant and its employees, and breached protocols, among other things. All invite bacteria and pathogens to clean areas, which can lead to contamination, introducing major problems in multiple areas. Special attention must be given to design layouts to ensure employees can access hard-to-reach areas for cleaning, including behind equipment and inside it. Designs with sloping floors and drains ensure ease of frequent cleaning.

Tourability for visitors and walk-throughs


Food processing plants often make frequent changes to product lines—switching vendors and suppliers—and inviting potential investors to tour. Touring protocols have always been in place, but we're seeing new facilities featuring separate touring channels. The pandemic only underscored the need for protection through separation.
Case Study: In 2019, we designed elevated touring corridors for Tuffy's Treat Company in Delano, Minnesota by combining them with mechanical access areas. It was a double-duty design move—segregating touring for the plant but also freeing up valuable space on the floor, an innovative way to provide flexibility, segregation, and Green Globes certification for its 174,000-square-foot facility.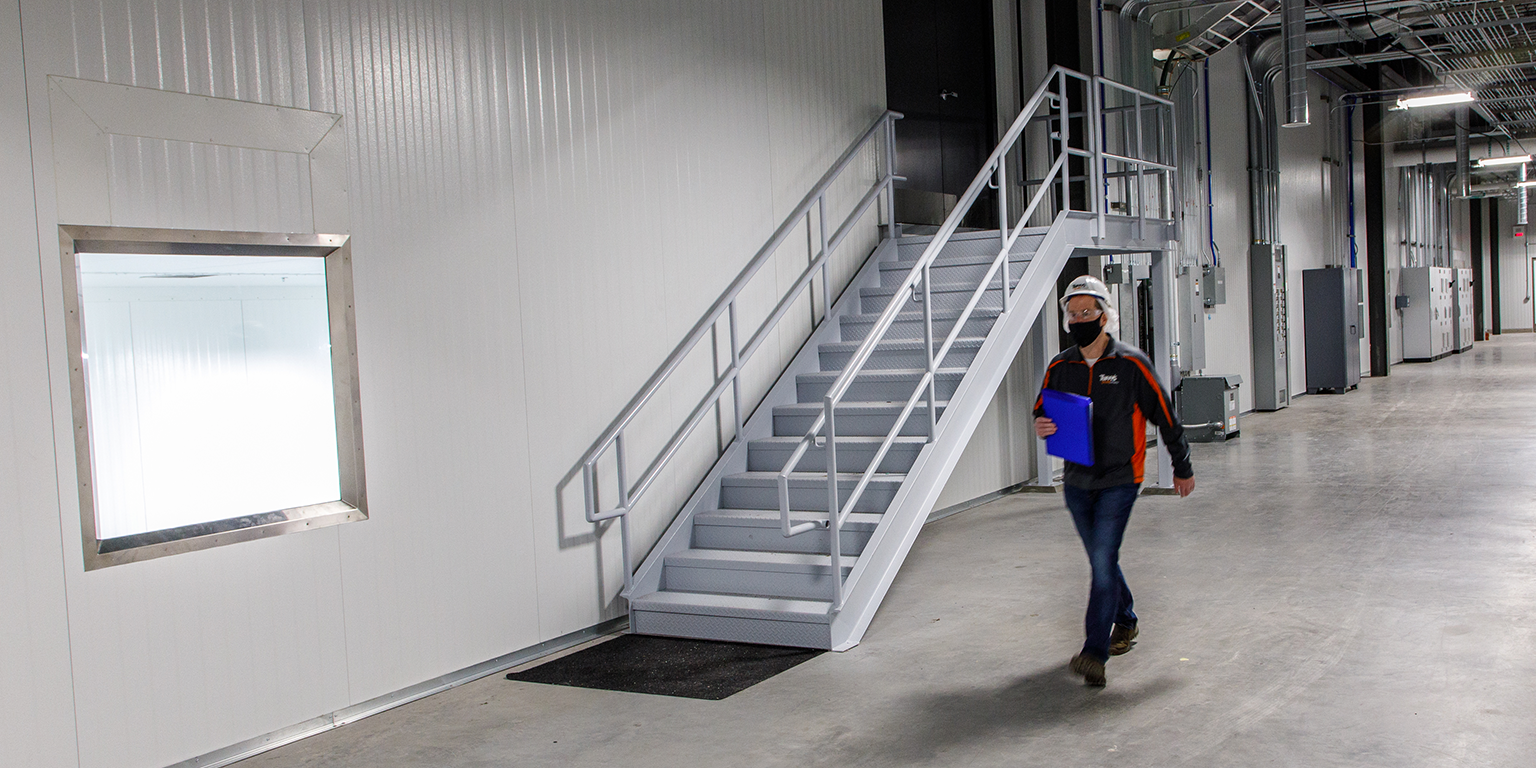 Sustainability beyond just lip service


We've been hearing about sustainability for years, but now it's a driver of revenue and viability. Consumers wield sustainability as a purchasing criterion, prioritizing retailers who ensure their suppliers have aggressive and transparent goals toward reducing a plant's carbon footprint.

The EY (Ernst Young) Future Consumer Index in 2022 reported a majority of U.S. consumers believed a company's behavior is just as important as its products. And 17% said "Planet First" is the first consideration of purchase while another 17% ranked "Society First" as number one. That's nearing 40 percent of respondents, a big change from a decade ago.

In a recent study, NielsenIQ and FMI – The Food Industry Association, reported 72% of shoppers consider transparency from brands and manufacturers to be "important" or "extremely important."

Designing a facility with LEED, Green Globes, or Zero Waste guidelines is a win-win, providing well-known accolades that companies can market in relation to how their products are produced. As demonstrated by two projects CRB designed, sustainability is a selling point.
Case Studies: 
For Mars Chocolate North America, CRB designed a number of sustainable features, including a state-of-the-art heat recovery system and rain-harvesting for irrigation and sewage transfer, all while reusing and recycling building materials, helping the 500,000-square-foot Topeka facility achieve its  "zero waste to landfill" goal. Food Engineering magazine named it 2015's Sustainable Plant of the Year.
For Mycotechnology, an 86,000-square-foot mushroom fermentation plant in Aurora, Colorado, vertical building decreased the plant's gas and water consumption, saving over one million gallons of water a year and reducing natural gas usage by 40%. Those bragging rights earned the company Food Engineering magazine's Sustainable Plant of the Year in 2020.
Flexibility with modular designs


The COVID pandemic launched the term "pivot" for manufacturers in every industry—whether for changing lines mid-production, adapting to supply chain disruption, or operating with fewer employees.

Now that we know it can be done, future designs will require built-in adaptability to circumvent shut-downs and costly delays. Prefabrication, preassembly, modularization, and offsite fabrication—called PPMOF, a process we use in our ONEsolution integrated project delivery method—is one way to ensure food processing plants can customize without losing efficiency. At Mycotechnology, some lines can be switched in less than 10 minutes.

Large rooms with open floorplans gave the same boost to Tuffy's Treat Company:

Allowing for spaces to be quickly renovated to accommodate new product lines (even for smaller, private labels)
Consolidating space so the company could store its own fresh proteins, instead of relying on a third-party contractor to produce shelf-stable products
Offering customizable options tailored for specific equipment and FSMA compliance.

Problem-solving with automation and technology 

Although automation requires less square footage in a food processing plant—sometimes considerably less–it's more expensive due to technology and equipment costs.

Higher equipment costs for automation must be balanced with lower operational costs. In addition to smaller footprints for production, fewer employees lead to smaller amenity spaces like breakrooms and parking.

For some facilities, automation is so prevalent that they've moved toward a "dark warehouse" that hosts mostly robots and materials stored in racks. Automation is not only efficient in process, but in space, requiring a smaller footprint through consolidation.

It's important to right-size the design of a food processing plant. While companies want the flexibility and efficiency automation brings, the budget often allows the bare minimum. If the design plan exceeds the capital cost budget, designers can modify plans to rein in costs and find a middle ground that satisfies both budget and the need for future flexibility.

Data-driven design borrowed from life sciences

Designing a new facility or upfitting an existing facility doesn't require a crystal ball. The food and beverage manufacturing industry is increasingly mirroring the biopharma industry when it comes to implementing design changes in real-time.

Today's technology allows for a shared digital environment that fosters collaboration among the design, architecture, and construction teams.

Contracts, budgets, drawings, and timelines extend the building information modeling (BIM) data, adding another layer of input to propel the project step by step, all while keeping an eye on the target value of the project. Value and cost are constantly assessed to ensure there are no overruns or surprises.

 Employee amenities to address the manufacturing labor shortage

A 2021 study by Deloitte and The National Association of Manufacturers estimated more than 2 million manufacturing jobs could be unfulfilled by 2030, costing the industry nearly $1 trillion in 2030 alone.

Furthermore, in the survey, more than 75% of manufacturers said they'd have trouble attracting and retaining workers in 2021 and beyond, with executives reporting they were already struggling to fill higher-paying entry-level positions, let alone recruiting and retaining skilled workers. And close to 50% reported they'd turned away business due to a lack of qualified workers.

Plant amenities and design play a big role in employee attraction and retention—from creating open spaces with natural light to designing comfortable breakrooms. Manufacturers are getting creative on improving the employee experience, outfitting breakrooms with napping spots, foosball tables, and comfortable seating.
Designing for the future
A food processing plant's design or upfit will directly affect its viability, both as a production facility and a place of employment that will attract a stable labor force. It's a big decision that requires careful planning, designing, and costing.
At CRB, we help companies design food processing facilities for the future, knowing these facilities play an integral role in providing the nation's food supply. We recognize that each facility—and company—presents specific challenges, needs, and expectations. We design with careful precision and client input for every step of the process. From inception to completion, we're listening. We'd love to hear about your project; contact us.
Return to top