Capital projects driven by strict schedules rely on gathering the right materials, trades, and technology at the right time. But today's volatile market conditions can impact pricing and availability, leading to long lead times and frustrating delays.
Capital procurement in the life science and food and beverage industries face higher than average contractual and performance risks—so they especially benefit from a high level of procurement expertise.
A robust procurement plan promotes a steady supply chain of materials and equipment to keep construction projects on schedule and budget. It should also support the highest standards of integrity, ensuring ethical and honest interactions at all levels of the organization. With all these moving parts, a procurement partner with strategic expertise and industry partners can ensure the seamless execution of a project.
What do capital procurement services include?
Capital procurement services go far beyond purchasing equipment or ordering operational supplies. A holistic approach to procurement supports a construction project through its entire lifecycle—from creating a bid package to planning delivery logistics to facilitating warranty resolutions.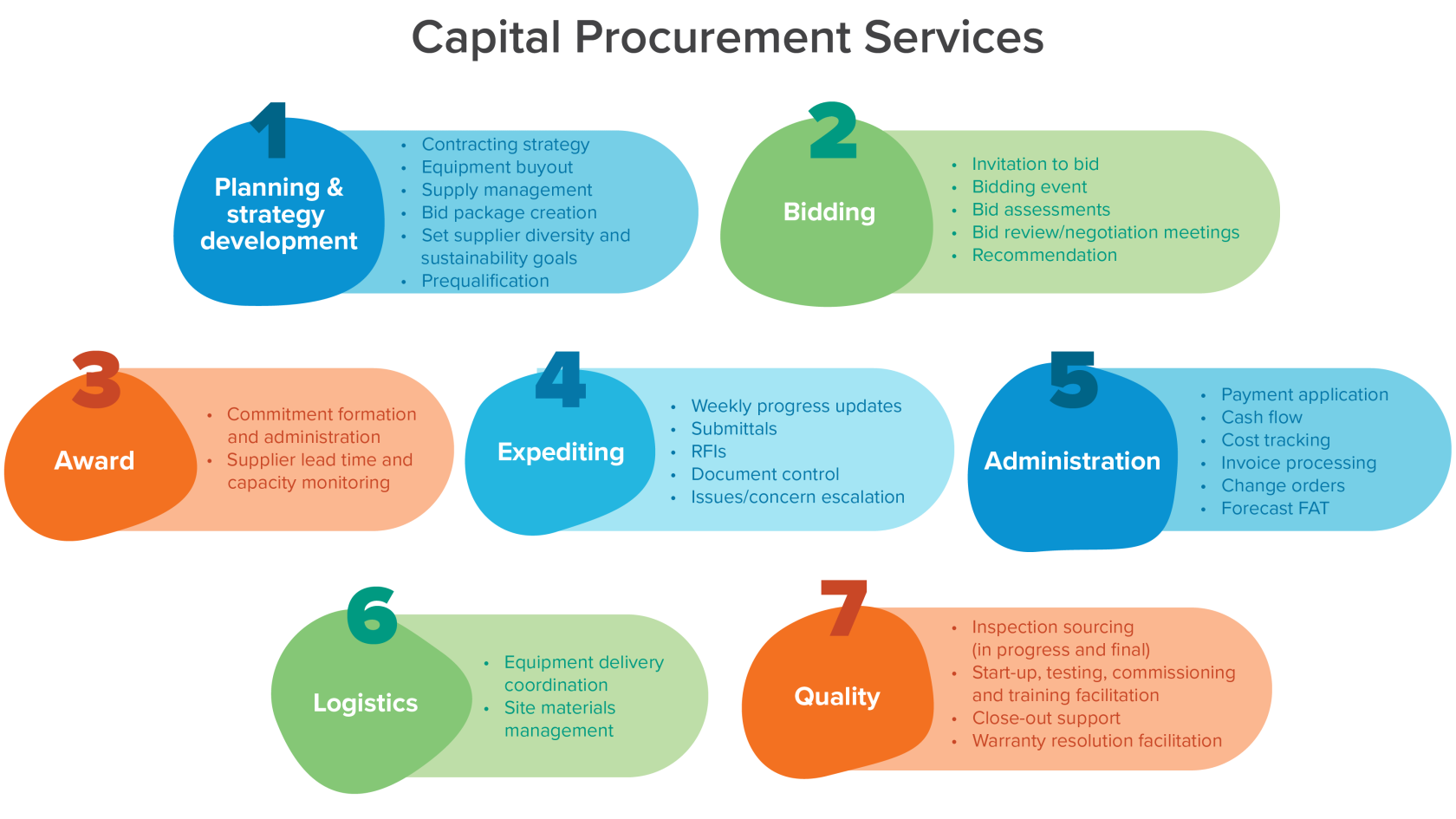 Developing a capital procurement strategy
Procurement professionals develop a strategy for every project that identifies the requirements for all goods (i.e., equipment) and services (i.e., skilled trades).
In the case of manufacturing facilities, goods may include things like capital equipment (e.g., bioreactors) and bulk purchases (e.g. controlled gases). Meanwhile, services may include skilled design and construction providers for regulated spaces. Each project will require unique goods and services.
When creating a capital procurement plan, both a micro- and macro- view is required. In order to catch the details while seeing the project's complete picture, consider:
Global vs. local markets
Key suppliers that will be used on the project
Long lead items
Freight, taxes, and duties
Factory and site acceptance testing (FAT and SAT) requirements
Startup consumables
Payment terms
Contract flow-downs
Equipment procurement
Equipment buyout is an essential step in the procurement process. With long lead times—sometimes spanning into years—equipment procurement is the first thing a team must focus on to keep a project on track. Incorporating specific long lead item milestones will help the team set priorities and drive the design effort.
A procurement team will first assign equipment into packages. They'll also determine the primary drivers for each piece of equipment (e.g., cost, schedule, or technical qualifications). In addition, they should identify which pieces of equipment will require regular shop visits to visually track progress.
As far as keeping things on time, the procurement team will optimize the timeline for submittal reviews and procurement durations. They'll also identify the expediting strategy per piece of equipment. Finally, they should consider early vendor down payment options for buyout of strategic pieces of equipment and the impact on the project's cash flow.
Trade contractor procurement
Although many projects must begin with an equipment procurement plan, it is wise to swiftly get the subcontracting execution plan underway. Project-specific requests for proposals (RFPs) and contract documents addressing all project requirements should be developed. Engineering, project controls, and construction personnel must be involved to develop the best contracting strategy, budget, schedule of values, and performance milestones specific to each bid package.
It's important to identify potential trade partners and subcontractors that have:
Excellent safety history
Solid financial stability
Sufficient capacity
Capability to perform the full scope of the work required
Demonstrated design assist capabilities
Established quality control measures
Current certificates of insurance
A project's procurement team needs to work closely with the project scheduler and engineering team to coordinate trade responsibility and requirements. Once the initial list of potential partners is developed, the procurement team should also involve the owner in selecting the best qualified and interested contractors.
The AEC partner or construction management company is responsible for the administration of the contracts from the RFP to contract close-out, including the following activities:
Preparing a project bidders list and obtaining approvals as required
Executing NDAs
Preparing and developing contract bid packages based on job requirements and engineering data
Holding pre-bid meetings for scopes of work (including required site visits) to ensure bidders understand the scope of services to be provided
Receiving and evaluating bid documents in a fair and ethical manner, in cooperation with the work cluster group team
Making appropriate recommendations and coordinating the contract award
Preparing and executing contract documents
Procurement professionals provide the following deliverables to support design, engineering, and construction services:
Project supply management plan and procedures
Bid packages
Trade partner and bidder evaluations with letters of recommendation
Purchase order/contract milestone status reports
Purchase order/contract commitment reports
Expediting status reports
Revision/change order packages
PO and subcontract closeout checklists
Cost savings/reports
What should you look for in a procurement partner?
More is required than simply creating requests for quotations (RFQ) for capital procurement and requests for proposals (RFP) for contracts. A strong procurement partner will:
Understand market conditions, capabilities, and capacities to create and drive a procurement strategy
Review early design documents to highlight long-lead delivery equipment for early purchase
Work closely with the planner and engineer to update estimated lead times and help optimize the packaging of equipment purchases
Leverage their expertise and relationships to improve the project schedule
Navigating the bidding process
The bidding process for capital projects requires clear communication at every step. An experienced partner will understand industry standards, regulations, and best practices enabling them to effectively assess potential bidders, create comprehensive bid documents, and facilitate a fair and transparent evaluation process.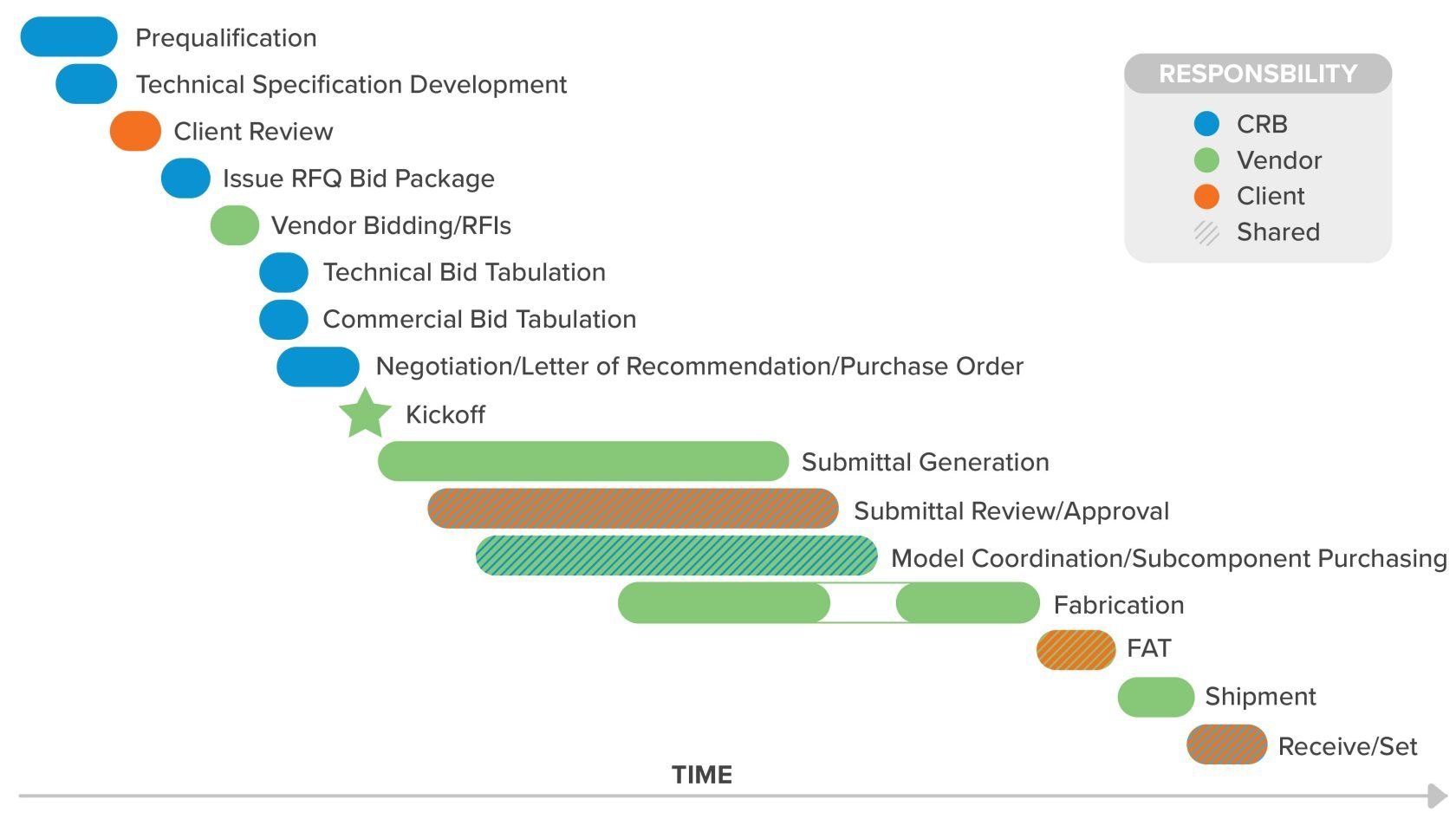 Prequalification
Once it's time to begin procurement, the prequalification phase begins. At this stage, it's time to contact a representative at potential bidding companies to confirm availability and interest in the project. An experienced AEC partner will already have a database of prequalified suppliers, which can save a huge amount of time and research.
As a best practice, each bidder should complete a commercial qualification questionnaire to verify solvency, backlog, and other potential risks to project success. It's also important to vet their overall technical capabilities.
Invitation to bid
Following prequalification, organizations who have met the initial requirements receive an invitation to bid. Bid invitation letters should:
Identify equipment or services to be procured
Detail evaluation and award schedule
List any special conditions specific to the project (e.g., turnover package documents)
List terms and conditions
Identify any other project-specific information
List all other documents comprising the invitation to bid
During this part of the procurement process, it's important to log questions or requests for clarifications in scope from potential bidders and provide timely responses. Failure to keep up with these communications can delay the entire project before it's even begun. If needed, clarifications and/or addendum can be added to the bid package.
Bid review
Once the bid period ends, the design-build team provides the first round of reviews to evaluate bids for technical compliance with design requirements. By comparing bids within a technical bid tabulation, it's easy to identify where each bidder meets specified requirements. In cases where bids are found to be technically deficient, bidders can be given an opportunity to update and improve their proposals.
Once bids are approved from a technical point of view, it's time to conduct a commercial bid review and tabulation. Bids should again be compared and ranked based on critical success factors for the project (e.g., commercial attractiveness, ability to meet schedule, etc.).
Bid review/negotiation meetings
Next, it's time for bid review/negotiation meetings with bidders who are eligible to be awarded the project. These meetings should:
Confirm the bidder fully understands the complete scope of work
Ensure the bidder grasps the technical, FAT/SAT testing, start-up assistance, close-out, schedule, documentation, and commercial requirements
Verify bidder's ability to meet schedule requirements
Negotiate final price and contract terms and conditions
Confirm submittal and turnover package requirements are included
Discuss any exceptions, qualifications, options, or strategies either party may have
Define clear communication and distribution channels for the package
Bid review and negotiation meetings play a pivotal role in aligning expectations, ensuring clarity, and facilitating the finalization of essential project agreements.
Award
Once the most qualified contractors have taken part in the review and negotiation meetings, the bid packages are awarded to the desired partners and contracts are put in place. This marks the official start of the collaboration between the companies as one project team.
The role of procurement during project execution
Procurement proficiency goes far beyond gathering goods and services. It also includes coordinating on-site and off-site activities throughout the project execution phase.
Logistics Coordination
An experienced procurement professional handles certain on-site activities such as equipment rigging, re-assembly and installation. They also track delivery dates, sizes and quantities. Procurement professionals are also aware of truck paths into the job site, as well as truck loading and off-loading requirements.
They also track offsite storage requirements and management of the offsite storage and organization. Coordinating international deliveries may require managing complexities, such as arranging air transportation, followed by a safe transfer of goods to land transportation.
Tracking equipment and managing purchase orders (POs) and change orders
An experienced capital procurement team will generate comprehensive reports to identify the status of the equipment, fabrication, and delivery requirements. They manage POs and change orders, by verifying the accuracy of invoices, negotiating back charges for final settlement and closing out purchase order files.
Expediting services
A huge part of successfully completing a project is meeting equipment/material delivery dates. This is where the role of an expeditor comes in. This team member's overall aim is to ensure that all purchased equipment and material is delivered on site on schedule.
An expediter plays a critical role in keeping a project on track and on budget. Their duties include:
Weekly meetings to update the team on equipment status
Issuing weekly status reports to the team
Anticipating problem areas and taking appropriate actions before delays occur
Exert pressure when necessary to ensure sellers' compliance with the schedule
Continuous review of the status of all orders until delivery is completed
Shop visits
Coordinating logistics and deliveries
Orchestrating the timely arrival of essential components, achieving project milestones and staying within budgetary constraints is key to a successful project.
Best practices in capital procurement
Diversity
Expanding the sources of diverse suppliers—while maintaining our standards for providing high-quality service delivery—can strengthen and increase business opportunities for women, minorities, and other underrepresented groups to participate in the procurement sourcing process.
Evaluate existing and future partners to ensure alignment with a company's values and commitment to Diversity, Equity, and Inclusion (DEI). To do so, it's important to develop guidelines and policies to create an inclusive list of suppliers. Companies can consider seeking bids from:
Small Businesses (SB)
Minority Business Enterprises (MBEs)
Women Business Enterprises (WBEs)
Service-Disabled Veteran Business Enterprises (SDVOBEs)
Veteran Business Enterprises (VBEs)
Lesbian, Gay, Bisexual, and Transgender Business Enterprises (LGBTBEs)
Disability-Owned Business Enterprises (DOBEs)
HUBZone small businesses (HUB)
Sustainability
Sustainability within procurement represents a huge opportunity for companies to protect the planet. According to the EPA Center for Corporate Climate Leadership, "Scope 3 emissions, also referred to as value chain emissions, often represent the majority of an organization's total greenhouse gas (GHG) emissions." Therefore, integrating Corporate Social Responsibility principles, sometimes called environmental, social, and governance, into your company's procurement processes can have a significant impact on your company's carbon footprint.
How can you do so? Start by looking for opportunities to reduce transportation mileage, raw material consumption, energy use, and waste throughout the procurement process.
Strategic capital procurement practices are key to your project's success
A strong procurement strategy has never been more important. Amongst persistent supply chain disruptions and widespread skilled labor shortages, a project's success often hinges on a robust and resilient procurement plan. Companies are wise to protect their project's investment by leveraging seasoned procurement professionals. Not only do procurement pros have a wide network of good industry relationships to draw on, but they also have the ability to quickly grasp the full scope of a project and point out possible roadblocks or unexpected expenses. By involving an experienced procurement team early in the project, a project benefits fully from their skills, from front-end planning all the way through to facility completion.
CRB's Global Procurement Group can help drive effective turnkey procurement performance as an extension of your team. Every project team has direct, immediate access to CRB's global leverage, contacts, and resources. This adds measurable value to achieving your project goals.
Procurement FAQs
What is factory acceptance testing?
Factory acceptance testing (FAT) is the inspection and testing (static or dynamic) of systems or major system components. FAT supports equipment qualification conducted and documented at the supplier site or facility.
What is an invitation to bid?
An invitation to bid (ITB), also called a request for quotation (RFQ), is a business document provided to potential suppliers outlining the company's specific requirements for capital purchases and asking suppliers to submit a bid.
What is a request for proposal?
A request for proposal (RFP) is a business document provided to potential contractors outlining the company's specific requirement for requires services and asking qualified contractors to enter a bid.
What's in a purchase order (PO)?
A purchase order (PO) is a business document issued by a buyer to a seller to control the purchasing of products and services from external suppliers.
Equipment/material being procured
Drawing submittal due date
Required delivery date
Shipping instructions
Bond and insurance requirements
Turn over package documentation requirements
FAT requirements
SAT requirements
Start-up support requirements
What are letters of recommendation?
A letter of recommendation is a business document written by a company that has previously worked with a supplier or vendor. It typically outlines their suitability and qualifications to provide the services or items requested.
How can I save on capital purchases?
There are many strategies to leverage to return savings to a project. Some methods of obtaining savings include:
Savings equal to the difference between original bid and final bid
Line-item cost reduction—any line items reduced during bid conditioning
Schedule or cost-effective alternative methods of construction, material substitutions, etc. identified during the procurement cycle
Consolidated awards for multiple requirements. Savings equal to the value of additional discounts on aggregated spend.
Change in procurement strategy—sole source to competitive bid
Negotiated reduction in proposed change orders
Return to top