Digital delivery, digital twins, and industrialized construction are shaking up construction and manufacturing. Here's what you need to know about how these innovative technologies are being applied to lower costs and speed up schedules.
Digital technologies are transforming manufacturing, including pharmaceuticals, food & beverage, and pet food. Now, they are also changing the delivery game on construction sites, too. This is how digital technologies, such as augmented reality, Internet of Things (IoT), reality capture, and digital twins modernize and accelerate facility construction.
The slow pace of adoption
There has been slow adoption of Industry 4.0 in both the pharma industry and the design and construction industry for a number of reasons:
Pharmaceutical manufacturing is conservative, partly due to the highly regulated nature of the industry.
Getting skilled workers on board and introducing new digital workflows to an existing culture can be daunting.
Until recently, construction workers and process engineers were not chosen for their skills in digital technology and automation.
Construction businesses are having difficulty finding qualified labor for open positions.
The expense of incorporating digital tools can be seen as a barrier. Some think, if a process is working, why change it?
But there is a good business case to be made for evolving along with other industries: the prospect of greatly improved efficiency in construction and manufacturing. To this end, we are now seeing significant investments in construction technology, amounting to more than $2 billion in 2021. The adoption of Industry 4.0 is speeding up as companies prioritize hiring those skilled in digital technologies and focus on developing innovative industry tools.
What is digital delivery?
Digital delivery is all about using technology for smoother workflow integrations and stronger team connections. Specifically, it's the execution and implementation of technology to integrate work processes and connect project stakeholders throughout the project and building lifecycle. It relies on leveraging data through connected teams, equipment, and tools.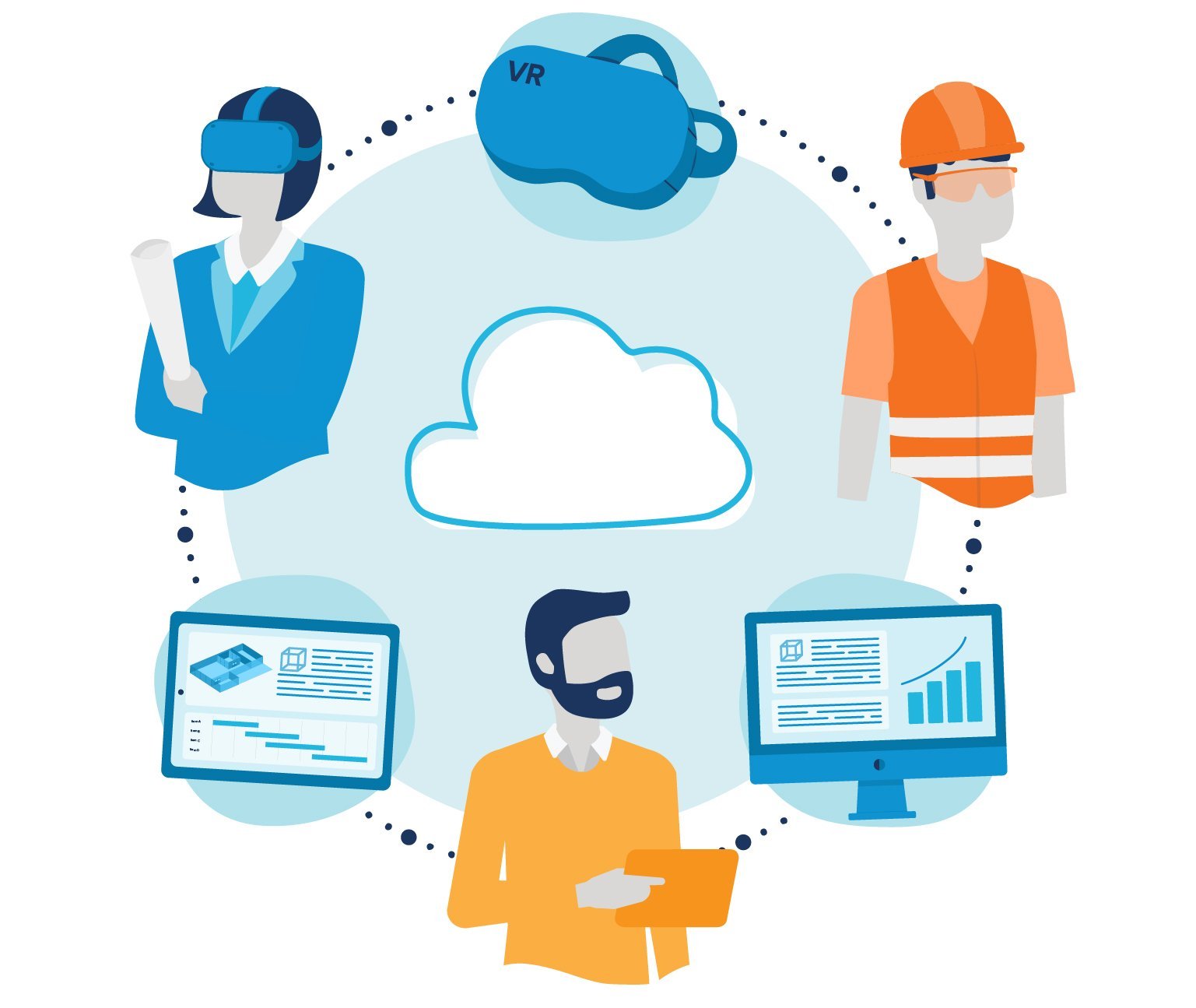 What is industrialized construction?
Also known as Construction 4.0 or digital construction, this approach applies manufacturing techniques to the built environment. This is a shift in the industry's overall mindset from creating traditional deliverables to assembling a building. CRB's ONEsolution™ is the perfect environment for industrialized construction to flourish and includes:
Design for manufacturing and assembly (DfMA)
Autonomous construction
Artificial intelligence (AI)
Predictive analytics
Cloud-based infrastructure
Computer vision
Reimagining a Life Sciences Manufacturing Facility Using Industrialized Construction
Want to learn more about industrialized construction and how we're incorporating it at CRB? This on-demand webinar from Autodesk and CRB dives into the current and future state of industrialized construction, modular approaches, cloud tools, and more.
What is Industry 4.0?
Also known as the fourth industrial revolution, Industry 4.0 uses digital technologies to improve manufacturing. It includes the IoT, predictive analytics, robotics, and automation.
What is Pharma 4.0™?
Pharma 4.0, developed by ISPE in 2017, is an offshoot of Industry 4.0. It addresses how to incorporate digitalization specifically in the pharma industry in a holistic manner, including its impact on the workforce and resources, organization and processes, and culture.
The benefits of digitalization
How does it improve quality?
There's a strong connection between taking a digital approach and delivering higher-quality construction projects. It reduces potential downtime by using AI to predict problems. In a finished and operational manufacturing facility, it also allows real-time testing as opposed to waiting until the end of a batch or run. This speeds up the troubleshooting process and allows teams to intercept or prevent quality issues.
How does it reduce costs?
A report from FMI and PlanGrid in 2018 detailed the immense cost of rework in the construction industry. Searching for project-related data, poor communication between and within teams, and problems with the quality of information were estimated to cost companies more than $31 billion in the US that year. As a solution to these common construction woes, the same report suggested the industry needs to embrace better data management to improve efficiency. For example, digitalization can vastly improve target value delivery, which is used to define quantities of materials that impact the cost of a project. It is now a digital process, using building information modeling (BIM), that allows you to measure quantities in real-time against the target amounts set during design. The beauty of this is that it helps provide cost certainty.
What are its effects on schedule?
Digitalization reduces rework and bolsters schedule certainty. By connecting all stakeholders from a construction standpoint, digitalization can smooth out workflows and get ahead of potential problems. Combined with ONEsolution, or an integrated project delivery (IPD) workflow, this offers cost and schedule certainty because everyone has ownership of the entire process from design to construction. Gone are the days of a siloed approach, with a completed design being handed off, only to be re-designed by a trade partner, and then passed on to the construction crew. Digitalization has led to an improved ability to have shared ownership of the entire design and construction from start to finish. This collaborative approach can shave weeks or even months off a project schedule.
Technology adoption trends
Augmented reality (AR)
AR brings the digital into the physical world. It can be used for remote site inspections and punch lists on job sites. It's also possible to overlay the model in a SmartGlasses headset for design verification and progress tracking.
One area where AR has proved particularly valuable recently is virtual factory acceptance testing (VFAT). This gained traction during the pandemic as on-site FATs were put on hold. The CRB team has conducted 60+ VFATs with hands-free, interactive collaboration for our clients, including hundreds of hours of site walkthroughs as part of our Digital Delivery initiative. In less than 90 minutes from the arrival of the smart glasses on-site, we are able to use Remote Assist to take clients and vendors from setup and training to executing virtual interactions with the project team.
Virtual reality (VR)
VR is extremely useful for collaborative reviews with our clients during the design phase. This allows us to look at plans with clients and mark up designs with comments in real-time. It is part of virtual design and construction (VDC) and BIM. Including all project stakeholders in VR reviews ensures the design optimizes constructability, operability, and maintainability of the new facility.
It is invaluable to use VR to include operations people—those who will be using the space—early in the design process, as their feedback is essential. A virtual reality headset allows them to "walk around" in the space and point at things or describe aspects of how they would do their job. Their feedback then can be directly integrated into the design.
Internet of Things
The IoT has useful applications to promote automation in construction by allowing the tracking of equipment, tools, and people. For example, employees can wear a bracelet that contains their biometric data and is connected to the IoT. Clients are using this to ensure on-site security for such things as login access, e-signature authentication, and card access entry to restricted areas of a facility.
This is not only for safety and security, but also to gather data to compare against the schedule. This means we can monitor crew size to assess, for example, whether something was built on schedule and whether the actual number of worker hours matched the estimate.
Reality capture
Reality capture is used to create a model, or digital twin, of a physical location. Photogrammetry is the process of using 360° cameras to create a series of photos that are stitched together to make a static 3D rendering of a building site at any stage of construction. Notes and other real-world information can be pinned to these images, allowing both clients and CRB to capture current site conditions and conduct virtual walkthroughs of a facility during construction.
Progressive reality capture can be accomplished by using drones and photogrammetry to document construction progress as well. This helps to measure progress for design verification.
We use Matterport for our reality capture, which is a basic way to build cost-effective digital twins. Other reality capture tools, such as light direction and ranging (LIDAR) and laser scanning can also be used but that increases the cost.
Digital twins
A digital twin is a virtual representation of a building or system across its lifecycle, using real-time data to enrich our understanding of how it functions. It includes data streams related to:
Process design and simulation
Engineering
Maintenance
Operations
CRB uses digital twins for design verification and progress tracking. Facilities' maintenance staff can wear a VR headset and do a virtual walkthrough of a space to point out potential problems or, after construction, as part of training. They can click on a valve or any piece of equipment and link directly to a data sheet or user's manual.
"These data sources are like the components of an electric vehicle's engine. Each one is vital, but until they're assembled and functioning together in the right way, the current won't flow and the wheels won't turn."
- James Mize, CRB Digital Delivery Specialist
The future state of digitalization: a complete digital twin
In the near future, modern facilities will have a complete building digital twin in which every object within that facility has a digital copy containing historical data from design and construction, and will be fed with real-time data from operations and building maintenance. For example, since all of the commissioning, qualification, and validation (CQV) and construction design data on a skid would be accessible, the model could offer predictive maintenance about when a part may fail. It could also, based on the supply chain, automatically order a part and notify the maintenance department to replace a pump on that skid.
Digitalization beyond facility completion
Digital delivery goes beyond the completion of facility construction. A digital twin of a facility and its manufacturing processes is not a one-off exercise. Models should be maintained regularly, and data analytics should be used to predict problems in equipment.
Likewise, your digitalization strategy will be an ongoing exercise. Learn how these technologies and more can help you create a roadmap to the digitalization of your facility.
Return to top