Creating a roadmap to the digitalization of your next pharmaceutical facility.
The fourth industrial revolution is underway and it's based on a constantly evolving collection of computerization and automation technologies. While many industries quickly embraced these modern tools, the highly regulated space of pharmaceutical manufacturing needed longer. But now, this culmination of exciting technologies—artificial intelligence, advanced robotics, Big Data analytics, the Internet of Things, system integration, biometrics, cybersecurity, and cloud computing—are rapidly changing the face of the pharma industry.
What is Pharma 4.0?
Pharma 4.0™ is an industry-appropriate evolution from Industry 4.0. The International Society for Pharmaceutical Engineering has an initiative to introduce Industry 4.0 to the pharmaceutical industry and has created a Pharma 4.0™ operating model to help do so. The Pharma 4.0™ operating model accounts for how to adopt this technology into the heavily regulated pharmaceutical industry, and how to do so in a way that considers the safety and security needs of pharmaceutical manufacturing.
Industry 4.0 in the pharmaceutical industry
The pharmaceutical industry tends to be more conservative about adopting new technology due to a more stringent regulatory environment and, in some cases, budget constraints. This is changing rapidly, as every new facility is being challenged to incorporate some level of digital technology from R&D to manufacturing.
There is a strong business case for Pharma 4.0™ as its benefits include: 
Harmonized data flow

 

Enhanced security of sensitive data

 

Improved quality

 

Better access to data

 

Cleaner audit trails

 

Mobility of data

 
Identify opportunities for Pharma 4.0™
The process to implement any level of Pharma 4.0™ starts with assessing your current digitalization level. Then it's important to determine your target level and create a roadmap to achieve it. Finally, when we work with clients to identify Industry 4.0 opportunities, we recommend appropriate digitalization use cases, which are outlined in this piece.
Adopting new technology works best when it applies to specific pain points. Where are the problems that can be alleviated by incorporating technology? Pharma 4.0™ solutions can fit into manufacturing, filling, packaging, the warehouse, quality, maintenance, and IT. In packaging, for example, automation using a robot or cobot—collaborative robot—could replace an operator whose job is to open boxes all day with a box cutter.
There are always areas for improvement. It's worth identifying these, drilling down to fully identify the opportunities, and then adopting the appropriate technology to help solve those problems.
Assess your current digitalization levels
What is the Digital Plant Maturity Model (DPMM)? DPMM lays out the stages of evolution from a Level 1, paper-based plant, to a Level 5 plant that is fully automated and adaptive. Using this model is an effective way to assess the current level of maturity of an organization, as well as identify the overall target level. CRB's Industry 4.0 team assists our clients with this assessment, and then helps them to build a roadmap to achieve their desired level of digital maturity. The majority of CRB's clients are at a combination of Level 2 and Level 3, which includes connected plants with a higher level of automation integration between systems and some level of standardization. Level 3 facilities are capable of full electronic batch records with batch review and release by exception. Many of our clients looking to build a greenfield facility are interested in targeting Level 4 so they have a plant with some level of predictive analytics, with possibly some aspects of Level 5. This allows them to predict problems before they happen to minimize production downtime.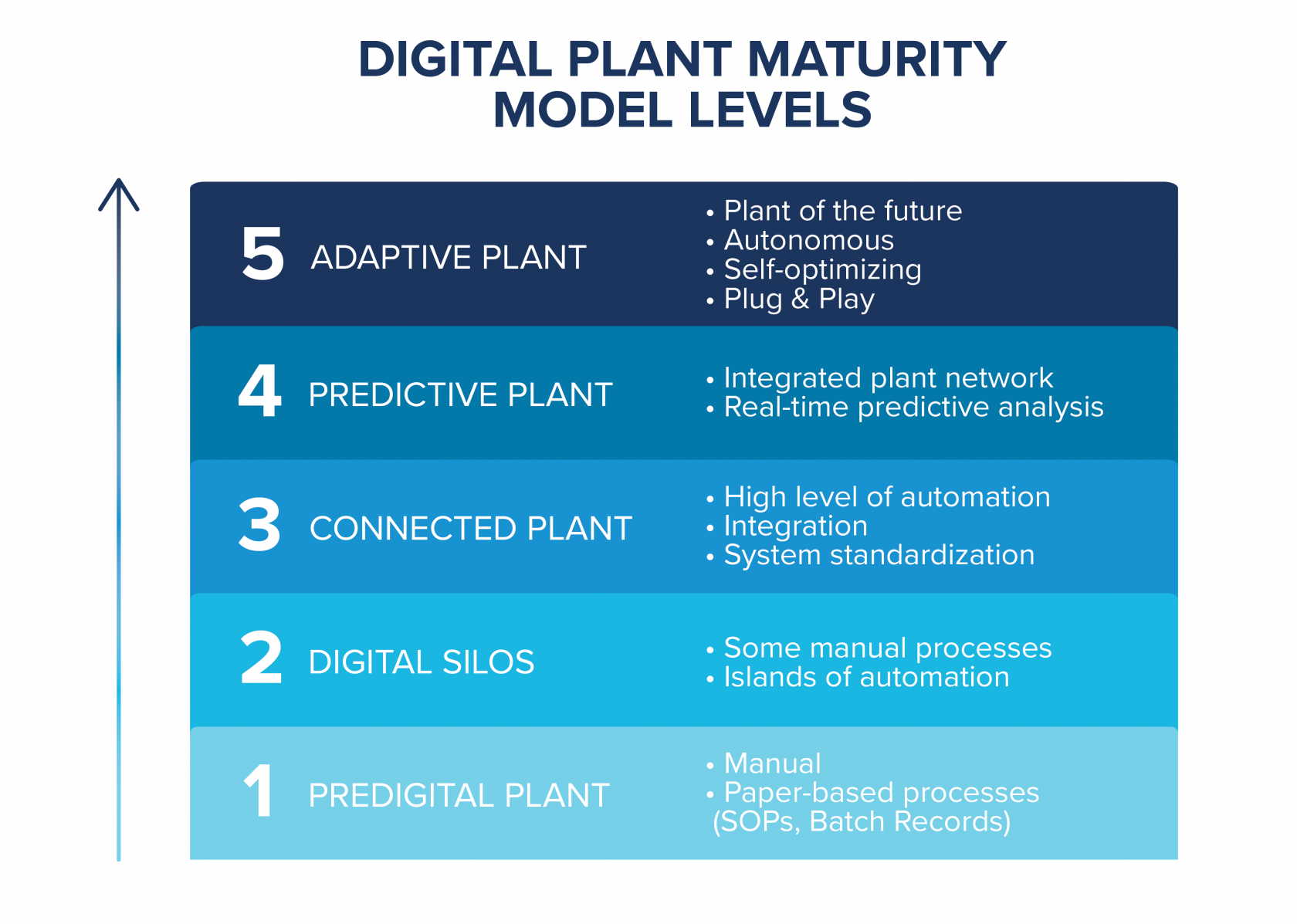 Creating a roadmap to digitalization
There are a number of useful questions to ask at the beginning of the transition to a Pharma 4.0™ operating model. These include:
What technologies are available?
What are other companies doing?
What is the initial investment? What are annual recurring costs?
How will it impact design?
Who are the key vendors?
Who are the key integrators that can implement the technology?
What are the risks in terms of manufacturing, product safety, and cybersecurity?
What is the impact on the workforce?
Is it possible to set up a test-and-learn sandbox at an existing site to reduce the operational risks and costs for a new facility?
Asking how digitalization will affect design is always a good question. The engineering firm that is designing a facility needs to assess the impact of technology on the design. Typically, layout and facility planning will be affected, and the design must ensure a robust network infrastructure. A good example of a technology that has an impact on layout is the incorporation of a robotics application that requires a certain amount of footprint. Designers will need to adjust the facility layouts to accommodate any space-planning requirements. Additionally, a robust network infrastructure is key to implementation of many of the Industry 4.0 technologies. It is important to allow for data connectivity, but also balance this with provisions for strong cybersecurity requirements.
Also carefully consider how digitalization might cause changes to your workforce. In some cases, digitalization might result in the need to hire more people, such as data scientists to manage all the additional data that results from an increased level of digitalization. Digitalization may also result in upskilling some positions or decreasing other positions that can be better filled using automation.
Identifying Pharma 4.0™ use cases
There are a number of digitalization opportunities in pharmaceutical manufacturing that can be considered when creating a roadmap for Pharma 4.0™ implementation.
Digital twins
Digital twin technology can be used in different ways and can significantly minimize disruption to operations. From an automation engineering perspective, a digital twin is a virtual duplication of your process control system. Implementing a digital twin can give you the ability to test changes or potential software upgrades to your system before implementing them live. It can also be used to perform software FAT for qualification, thus streamlining the qualification effort.
Robotics
Robotics technology can be used for a variety of different applications in pharma, including packaging, weigh and dispense, sampling, charging of ingredients into a tank, and on isolated aseptic filling lines. Robotics technology can automate repetitive work, decrease personnel exposure to toxic materials, and minimize human errors and product failures.
Cloud-based infrastructure
Every pharma facility has at least some of its IT infrastructure in the cloud. What most companies don't have in the cloud yet is their operational technology—the process control system, data historian, and manufacturing execution system (MES). There is building interest, however, in moving some portion of overall infrastructure into the cloud because it reduces the amount of hardware needed so the facility footprint can be reduced.
Security is definitely an issue you should consider. It is important to ask the potential cloud provider questions such as, "Where will my data be stored?" Fortunately, cloud providers have come to understand how heavily regulated the pharma industry is and are making it easier for companies to ensure they have a more secure data storage and retrieval system.
Process analytical technology
Process analytical technology (PAT) is primarily focused on on-line monitoring of critical attributes along with automated feedback control of process parameters. The benefit of PAT is being able to make decisions based on the collection of additional sensing and monitoring data from equipment. To incorporate PAT, it is important to include the additional monitoring capabilities for equipment.
Mobile technology
One effective way to implement mobile technology is to exchange big, field-hardened human-machine interfaces (HMIs) in processing rooms with tablets. This can eliminate bulky, space-consuming HMIs, such as the process control system HMI, data historian HMI, and MES HMI. However, accommodating mobile technology requires a robust, well-designed wireless infrastructure. It is very important when designing the wireless infrastructure to take into account stainless steel equipment, ductwork, piping, and pre-fabricated metal walls that can all have a significant impact on wireless signals.
Artificial intelligence (AI)
Many companies are excited about the use of AI to collect and analyze production data to improve efficiency and optimize manufacturing. It can be used for predictive maintenance and predictive analytics, thus anticipating failures before they happen and minimizing production downtime. For example, one CRB client had an agitator that, because of vibration, came loose and was ejected from its tank. Our client can avoid this problem now with the use of vibration monitoring coupled with predictive analytics. Ask each vendor how it can accommodate predictive analytics to prevent this type of failure.
AGVs and automated storage and retrieval systems (ASRS)
Automated guided vehicles can reduce labor costs, enhance safety, and increase accuracy and productivity. But they come with a high upfront cost and design considerations, including making sure hallways and doorways are wide enough to accommodate them and deciding whether they will be able to access elevators. Consider the network required for the AGVs and incorporate that into the design.
Implementing an Automated Storage and Retrieval System (ASRS) can have many benefits including:
Reduced labor requirements and costs
Improved accuracy – reduced picking errors
Increased safety by reducing the number of potential accidents
Better utilization of space
It is important to note that ASRS installation can have a high initial investment cost. Unless your throughput is over approximately 500 pallets/week, it may not be economically feasible.
Wearables
Wearables is another exciting area and can be used to streamline training, to facilitate remote troubleshooting with "see-what-I-see" technology, and to provide electronic work instructions and SOPs.
Virtual design and construction (VDC) with building information modeling (BIM) is an effective way to work collaboratively on a design with our clients, trade partners, and vendors. Using virtual reality (VR) provides great value at low cost. Using a virtual reality headset, we can walk through a 3D model design with our client and conduct collaborative reviews. These virtual walkthroughs help with clash detection (e.g., avoiding having a pipe running into some ductwork) and can be done together to review a 3D design prior to it being installed.
We are also using augmented reality (AR) as a collaborative tool with our clients, for testing and remote construction observation. The recent pandemic made travel difficult for activities such as Factory Acceptance Testing (FATs). We have the capability to send a pair of AR glasses to our clients and within 90 minutes of receiving the package we are able to conduct an interactive, collaborative virtual FAT. To date, CRB has conducted more than 60 virtual FATs for our clients. CRB has completed well over 200 hours of site walkthroughs and construction time as part of our Construction 4.0 initiative. This lean workflow helps keep projects on schedule and costs in check.
Biometrics
Biometrics is a cost-effective way to reduce time authenticating operator identities, especially when multiple systems exist in a facility. It can wirelessly authenticate user identity to all endpoints requiring credentials, as well as authenticating e-signatures for compliance and increased productivity.
Radio frequency identification (RFID)
RFID tagging allows companies to uniquely identify inventory and assets to track them. It prevents theft and counterfeiting, does not need line-of-sight access, allows multiple tags to be read at the same time, and can be read further away than barcodes. It can be used in transfer panel identification, portable tank identification, and to manage the supply chain.  Some of the downsides for incorporating RFID technology include higher initial cost and longer time period for implementation.
System integration
System integration involves designing the IT infrastructure so it is integrated and interfaced properly to allow data to be connected and shared between different systems.
Horizontal integration involves different systems throughout the facility talking to each other, networking with each other, and collecting all the data in a central location.
Vertical integration allows production data to be used for making business decisions by facilitating communication between the horizontally integrated shop floor network and other higher-level systems such as the MES, enterprise resource planning (ERP), and laboratory information management systems (LIMS). The integration between each of the systems needs to be carefully designed and implemented to provide successful vertical integration. This is no easy task, as each system may have unique communication protocols that have to be considered in accounting for the network design.
The below figure illustrates how typical automation systems as well as business systems can be integrated to allow for full data connectivity between the automation layer up to the enterprise level.
Designing and configuring vertical system integration allows you to implement batch review and release by exception, which allows for quicker product release based on reviewing only the deviations.
Security concerns
The extent of digitalization opportunities require a robust IT infrastructure—servers, controllers, network connections, switches, firewalls—designed to control communication between multiple sources.
It's important to take into account the risks associated with this increased number of connections and the vast amounts of data being generated. Consider cybersecurity during the design of these systems, including firewalls installed to prevent unwanted data transfer.
Next steps towards digitalization
The sheer volume of potential Pharma 4.0™ technologies can be overwhelming for a company wanting to enhance its digitalization strategy. It is important to create a value-led, sustainable roadmap for Pharma 4.0™. By breaking down the process step-by-step, we can help you identify technologies that will create an integrated plant network capable of real-time predictive analysis, cost-saving efficiencies and continuous improvements. The plant of the future is here now—it's Pharma 4.0™.
Ready to set your Pharma 4.0™ roadmap? Let's talk. 
Return to top