Cost, regulation, and scalability pose stiff challenges to feeding a hungry world.
This article originally appeared in our Horizons: Alternative Proteins report, which includes insights from industry leaders and CRB's experts. Get your copy of the report here. 
Back in my early high school years, I often joined my father in the corn fields of Iowa, where as an agronomist for a major seed company he'd develop new hybrids for U.S. farmers. On many hot summer days spent between towering rows of corn, I'd frequently wonder about my family's small spot in the food ecosystem. Was I making an impact?
The answer then was "yes"—just as it is today.  At CRB I'm part of a company and industry focused squarely on bringing new technologies to market that will speed the alternative proteins revolution and move our world closer to true food security. Global demand for sustainable protein is on the rise, and it has been fascinating and incredibly rewarding to work alongside clients seeking to commercialize their new technology, and with it, a more sustainable production of critical protein.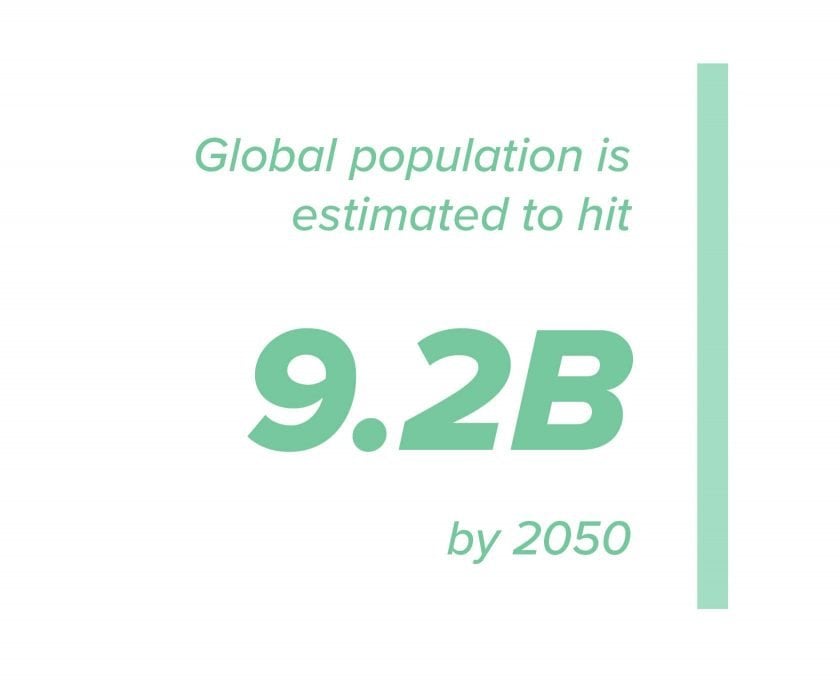 Their success in scaling up is critical. With the global population estimated to hit 9.2 billion by 2050, the industry is challenged to innovate to respond to this growing need for food in ways that are simultaneously less taxing on the environment and affordable.
But our Horizons: Alternative Proteins report reveals a tricky path ahead, promising great reward but potholed by risk. Across the emerging alternative proteins landscape, innovation and aspiration are staring down the realities of materials cost, regulation and scalability challenges. How fast can entrepreneurs get their products to market, at a price consumers are willing to pay? Aside from attracting investors and capital, and guarding their intellectual property, scale-up may be the single biggest worry that keeps CEOs up at night. Can their business model and manufacturing timeline keep pace as perceptions of affordability—and taste—change?
Those stakes have created an incredibly dynamic moment for pioneers of the alternative proteins revolution. I'm excited to say our report tackles many of the most important issues affecting alternative proteins, with analysis informed by some of our business' top subject matter experts. Among them:
Scaling up alternative proteins
Innovations have lowered the "patty price" of cell-based meat products to about $100—far from the price-point consumers have taken for granted from conventional beef manufacturing. Our subject matter experts Derek Ung, Tom Rychlewski and Jack Striebel explore why some plant-based meat manufacturers are approaching the disheartening limits of their production capacity, and the resulting effects on a price that consumers are willing to pay. Our survey found that nearly three-quarters of respondents say they've yet to break through to commercial manufacturing, and those that have are operating with unsustainably narrow cost margins. The good news is that as the alternative meat industry grows and competition between suppliers intensifies, materials costs are sure to drop.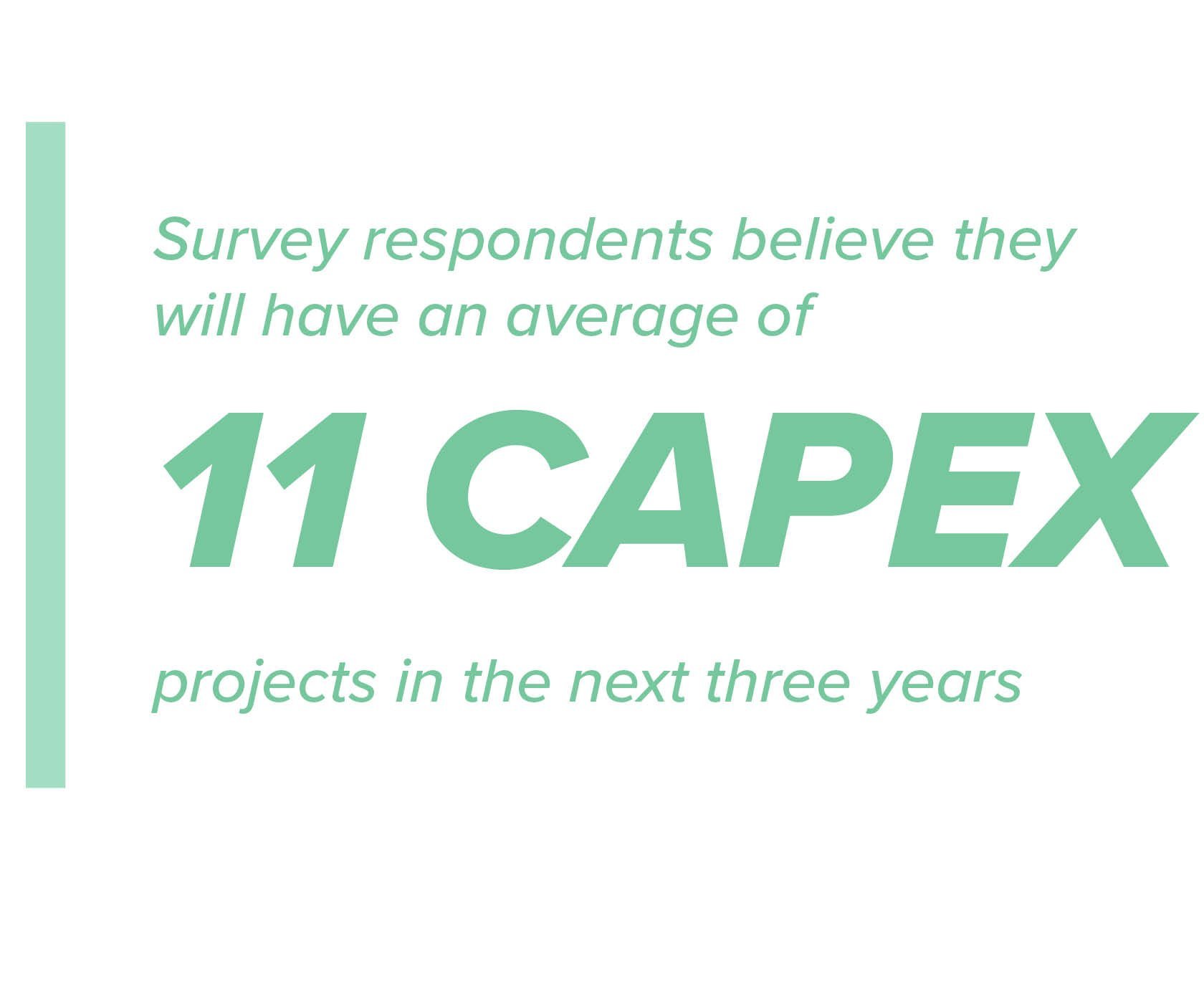 Speed to market
To seize on first-mover advantages, survey respondents are focused on rapid expansion. Building manufacturing infrastructure—new buildings and retrofits—is necessary as reflected by the survey respondents who believe they'll have an average of 11 CAPEX projects in the next three years. But two-thirds of respondents estimated they will spend less than $25 million over the next one to three years – a sum we believe is unrealistic given current trends. As SMEs Pablo Coronel, Ph.D. and Jeff Roy note, the progression to large-scale commercial manufacturing will require larger budgets and outsourced support. One encouraging sign was the openness among most of the respondents to integrated delivery solutions that give owners added certainty when it comes to cost, quality and scheduling. About four-in-five respondents said they were likely to consider an end-to-end approach that ranges from design and construction through to validation.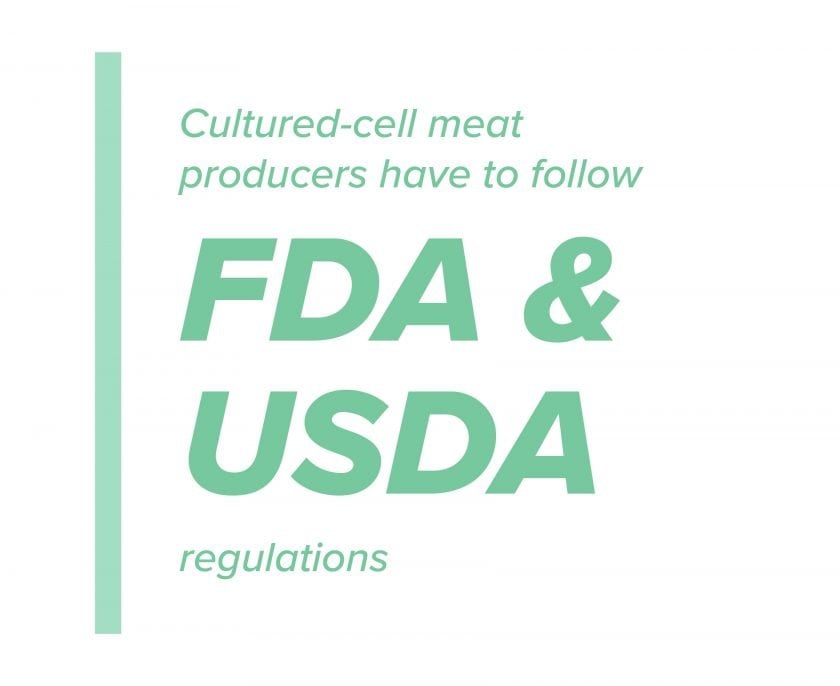 Regulating alternative proteins
More than three-quarters of respondents said their companies should follow the same rules that apply to traditional protein products. Just over half anticipate new regulations in the next two to three years, and 36 percent expect new regulations in the next five to 10 years. But, as SMEs Coronel and Jason Tucker observe, our survey revealed some unsettling confusion: While 52 percent of respondents said their products are held to USDA regulations, only 47 percent believe the FDA regulates their products. (FDA regulations have to be followed by all companies that produce plant-based or cell-based protein alternatives. Cultured-cell meat producers have to follow FDA and USDA regulations.)
About 80 percent of respondents said their company has either an in-house quality control manager or compliance officer to address regulatory compliance, with the remaining 20 percent either outsourcing regulatory compliance or lacking dedicated resources to compliance —a gap that could lead to unwanted repercussions.
Sustainability
Overall, respondents rate sustainability as highly important to their brand mission, and many companies are making the pragmatic link between sustainability and cost control strategies, report SMEs Tony Moses, Ph.D. and Dennis Collins. When we asked them to rank sustainability attributes, carbon footprint and energy/water consumption emerged among the top-ranking choices. Many respondents also indicated they are considering the efficiency of their utility systems and the availability of new technology to help them reduce water and energy loads.
Safety and packaging in alternative proteins
Given the growing but still relatively small footprint of the alternative meat, seafood and dairy producers in our survey, it was encouraging that the strong majority of respondents are handling food safety through in-house quality control. Yet, the majority are focused on approaches to safety that don't directly impact the product's composition, including environmental controls, hygienic zoning and packaging material selection—approaches that don't require adding language to the product label that could discourage buyers, according to SMEs Moses and Renee Benson.
Alternative dairy
Alternative dairy manufacturers have an advantage: From soy and pea protein to coconut and almond, the range of potential base ingredients is vast and growing, and from this range manufacturers can strategically develop a product portfolio that will help to offset their material costs. That diversity could be important given that the cost of goods is by far the top production barrier faced by alternative dairy producers, followed by quality control, lack of hygienic design knowledge or support, cross-contamination challenges and access to capital.
To feed a food-insecure world, look to biotech
Manufacturers of plant-based and cell-based protein can look to the biopharma industry for guidance, where bioreactors, fermenters, ultra-filtration units and more are commonplace already. For example, the biotechnology industry has been growing animal cell cultures in large-scale bioreactors for decades. These same upstream processing principles can be adapted to the food industry to aid alternative protein manufacturers in refining and scaling their processing.
We know getting bigger doesn't happen overnight. Uncertainty reigns, and anticipating facility needs down the road poses a giant challenge. Without a clear picture of industrial-scale process or regulatory compliance, it's increasingly difficult to create a facility that can accommodate a company in the future.
Again, it helps to look to the biotech industry. At CRB, our teams have spent the last decade-plus applying the manufacturing lessons learned in the life sciences to spark commercial production of plant- and cell-based food. We know, for instance, that biotech provides a good template for design, but it must be right-sized for cell-based meat production. In particular, the fit and finish requirements that are typical of biopharma facilities may not be necessary in a food facility—an example of an area where creative engineers can find solutions to lower the cost of producing plant- and cell-based meats.
Defeating food insecurity on a global scale will take everything we have. The right product. The right innovation. The right investors. The right equipment. It will also demand trusted partners who can unite these assets within commercial-scale facilities so that equipment arrangements, processes and flows can change as the industry evolves, or as tastes and economies change.
Every day, the genius of the innovators who lead the way in offering new kinds of food, and new ways of producing it, reminds me just how far I've come from those days in the corn fields of Iowa. But in so many ways, I've simply returned to my roots.
To access more insights on the future of alternative proteins, download the report below.
Return to top