Integrated delivery accelerates biopharma expansion project
In 2019, biopharmaceutical contract development and manufacturing organization (CDMO) Abzena faced a decision.
Sales across their U.K. and U.S.-based operations had grown by 2.5 times over the previous year. They could stay the course—or they could invest in a fully integrated, bench-to-market service model, positioning them as the world leader in end-to-end biotherapeutic and antibody-drug conjugate (ADC) development services.
They chose the latter and they partnered with CRB to overcome significant challenges and make that vision a reality.
Project Details
Client
Abzena
Location
San Diego, California
Square Footage
35,000
Challenges
To get the most from their capital investment, Abzena needed a facility engineered to support the widest possible variety of CDMO clients, now and into the future. Their new cGMP manufacturing trains, QC labs, and warehousing would have to be robust, flexible, and ever-ready. Our CRB team was, in short, designing for the unknown.
Logistical challenges added further layers of complexity. Abzena had leased a 50,000-square-foot shell space to house this expansion. An R&D lab already occupied a portion of that space and would have to remain operational throughout construction—a task that would require immense multidisciplinary coordination. Then COVID-19 swept through California, threatening key project milestones.
Solving these challenges by spending more or slowing down was not an option. We carefully controlled costs throughout the project, and speed was absolutely critical.
Our Approach
CRB's lean project delivery method, ONEsolutionTM, prepared us to overcome these challenges.
Traditional project delivery methods follow a linear, "pass the baton" approach. On ONEsolution projects, there is no baton. United by a project charter that advocates a shared risk/shared reward approach, the project's owners, designers, builders, and trade partners work together from day one. Ours is a synchronized effort, not a relay.
Cost Control
By engaging and integrating all design and construction stakeholders early, we created a shared pool of expertise and innovation. This positioned us to take full advantage of Target Value Delivery (TVD).
TVD gave our project experts a framework for guaranteeing the project's maximum costs early on. We focused on identifying design options that would deliver the greatest possible value to Abzena without breaching the project's budgetary constraints. As a result, we successfully delivered the biopharma expansion project within Abzena's target budget, despite its considerable complexity.
Scheduling Control
Communication and co-location
The early engagement and integration of design and construction teams incentivized good communication, which cut our volume of Requests for Information (RFIs) significantly; instead of the 600 to 800 expected on a project of this scope according to industry standards, we finished with just 70. Think of the volume of phone calls, emails, and meetings that we eliminated, which improved the project's velocity.
This also translated to significant savings.
The average RFI costs $1,000 to resolve, which means the culture of communication on this project potentially saved over $700,000 in RFI-related expenses.
Much of that efficiency comes down to our "Big Room," a physical environment shared by all team members throughout the project. This wasn't a conference room, where team members might meet occasionally—this was an "always on" space where the integrated team solved urgent problems, forecasted and mitigated risks, and shared in notable triumphs.
"We always felt like we had priority with the architects, engineers, builder, and trade partners. If we had a question, all we had to do was ask and they'd reply immediately, usually because the person with the answer was sitting right there next to us."
- Kevin Orf, Director of Technical Services, Abzena
The Last Planner® System
The strength of the Last Planner System, which uses low-tech tools to achieve a high-priority goal—on-time project delivery—is apparent on a project as complex as this one. A hand-written timeline and color-coded sticky notes can make a significant difference to move an integrated team confidently and efficiently in the same direction.
By giving team members a structure for working backward from broad project objectives to individual, short-term responsibilities, this tool helped us to identify potential roadblocks, quickly find solutions, and hold each other accountable on our way to meeting every project milestone.
Offsite fabrication
Early design certainty—that's one of the biggest payoffs of a project overseen by an integrated, cross-disciplinary ONEsolution team. We invited Abzena's validation experts to the table and incorporated their recommendations into the facility's design, helping to smooth the way for the downstream validation process.
Because of these early consultations, we were able to release several design packages for offsite fabrication early in our process, ensuring that long lead times and other supply chain disruptions would not put Abzena's target completion date at risk.
ONEsolution in action
A construction zone and a working lab, in one place
Abzena already operated a process development lab inside the shell they'd leased for this biopharma expansion project, which added complexity to our design and construction work.
Not only did we engineer the 35,000-square-foot cGMP manufacturing area to integrate with this lab, enabling smooth tech transfer and process scale-up for Abzena's clients, but we built it without interrupting the lab's vital work. Our complex sequencing strategy and the trust we shared with our trade partners paid off; even when San Diego Gas & Electric required a wholesale utility upgrade for the site, we progressed on-schedule with no negative impact to ongoing operations.
A global pandemic, one month from project completion
The biopharma expansion project was weeks away from final inspections when California issued a stay-at-home order in response to COVID-19. Within a few days, we had drafted a plan to protect workers' health through coordinated safety measures while allowing for essential work to continue on the jobsite.
This plan is a testament to the strength of our project charter, established months earlier and foundational to the project's success. Because our team shared a commitment with the project owners, trade partners, and other stakeholders, we were able to navigate the situation with agility and find fast, effective solutions, even in unprecedented circumstances. In the end, the project was completed on-time, with no positive COVID cases.
The Result
Our ONEsolution approach removes project obstacles, speeds decision-making, and clarifies objectives. It allowed us to build trust into our cross-disciplinary project team from day one. That paid off for us, for Abzena, for Abzena's clients.
SPEED: Our ONEsolution approach helped us to complete this biopharma expansion project approximately 25% faster than typically expected on a project of similar scope, based on industry standards.
COST CONTROL: We delivered this project within the target budget set during the early planning stages.
REPUTATION: Abzena's international reputation for providing the pharmaceutical industry's most complete and flexible set of solutions for biotherapeutic and ADC development has continued to grow since their launch of this expanded facility.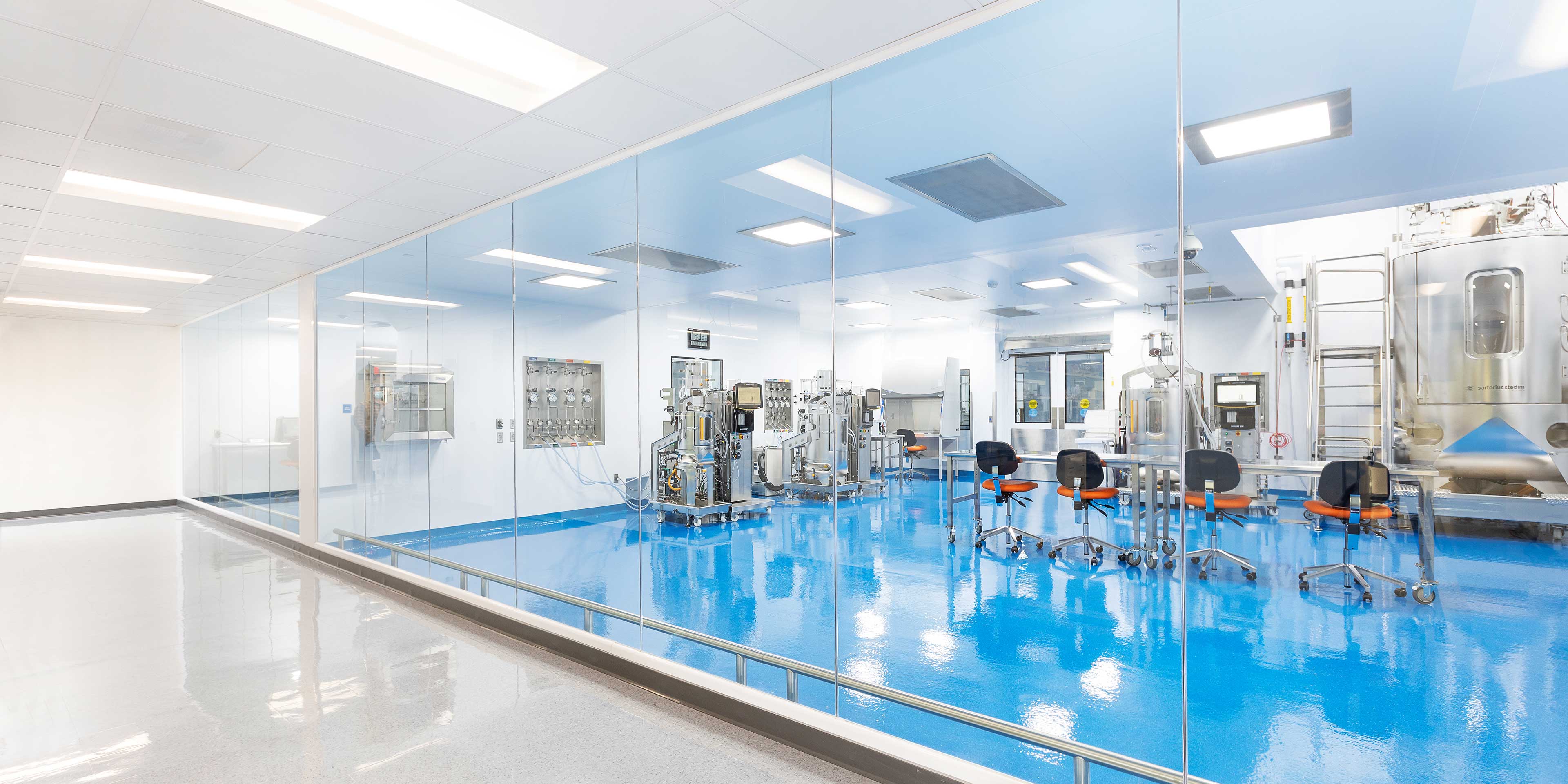 Return to top