While many in the world are asked to work from home, essential employees on the frontlines of food processing plants have no such luxury; they are still showing up to work to help move food through the supply chain.
The COVID-19 pandemic has inserted massive complications into an already complex, highly networked ecosystem that carries food and drink from facility to front door. How do food processing companies conduct business as usual during a pandemic and ensure anxious customers that their supply is plentiful and safe? How do food manufacturers safeguard their employees while remaining on schedule?
Consider these steps to protect your people, plants and products.
Protect your food processing amid the COVID-19 pandemic
Safeguard employees first
The food and beverage sector's health is vital to the nation's economic health, representing roughly one-fifth of the nation's economic activity and directly supporting over 23 million jobs. The sector's health also plays an important role in national security, providing citizens with confidence that food shortages will not be a concern. It is critical that companies implement new ways of doing business in order to protect their people from possibly contracting—and spreading—COVID-19.
To safeguard your people, the risk of contagion must be minimized from employees and visitors. Reinforce training in hygienic procedures, as part of good manufacturing practices, to ensure that employees are doing all they can to avoid the virus and prevent its spread. This goes beyond basic handwashing protocols and not touching the face. Consider instituting health checks at shift changes to make sure no employee is presenting symptoms. Minimize visitors to the plant and segregate or close retail stores attached to the production facility.
Another important aspect to this effort is proactive hygienic maintenance of your plant's environment. Sanitize the production space and all surfaces more often than usual, following guidelines from CDC, and take special care in changing rooms, bathrooms and break rooms. Also, make sure uniforms are laundered regularly and install foot baths or foot foamers to prevent the entrance of the virus on footwear.
Keep lines operational
Once you've put processes in place to protect your employees, look at your process to determine how you can keep business moving as usual. This can be done even in light of social distancing recommendations. Many manufacturers are finding ways to limit human contact within their facilities. All non-essential personnel that can work from home should do so to create the space necessary for social distancing. Virtual huddles can replace physical meetings to further reduce touchpoints.
Some processors are taking care to segregate visitors and shipping/receiving personnel from facility personnel. This added precaution may limit the risk of exposure for your essential employees. Meanwhile, plant leadership teams can be split up or staggered for continuity and redundancy. Specialists and high-demand personnel may be spread or staggered over shifts to avoid contact.
Finally, food and beverage processors may need to improve access control to production areas, which could require modifications to an existing facility. Also consider how you can mitigate product exposure risks in material flow paths and/or open processes in inappropriate spaces.
Leverage technology to do business
New technologies and increased automation have also flourished to aid social distancing. In fact, it's accelerated an automated future that was already on its way.
Look for opportunities to leverage technologies throughout your facility. Shipping and receiving, together with warehousing, benefit from robotics, driverless forklifts and other technologies that minimize contact with personnel of different areas in the plant.
Virtual reality headsets and tablets can enable factory acceptance tests (FATs), which would typically require a visit from outside personnel. Instead, these technologies allow on-site team members to transmit live views of the facility and data to a remote location and consult with others in real time.
Furthermore, technological solutions will play a larger role in maintaining records and food safety measures. Proper record-keeping is already vital to a food manufacturing facility, but especially as the FDA suspends domestic inspections, accurate and thorough record-keeping is vital. The FDA is evaluating ways to conduct inspections, including evaluating records in lieu of conducting onsite inspections. In the future, the industry should anticipate more electronic audits and a push for electronic records that can be reviewed remotely. Work with a knowledgeable team to assess your GMP compliance under FSMA and low-acid canned food requirements.
Ever-changing food safety regulations and improved technologies provide ideal opportunities for changing the processes, procedures and overall ways of doing business.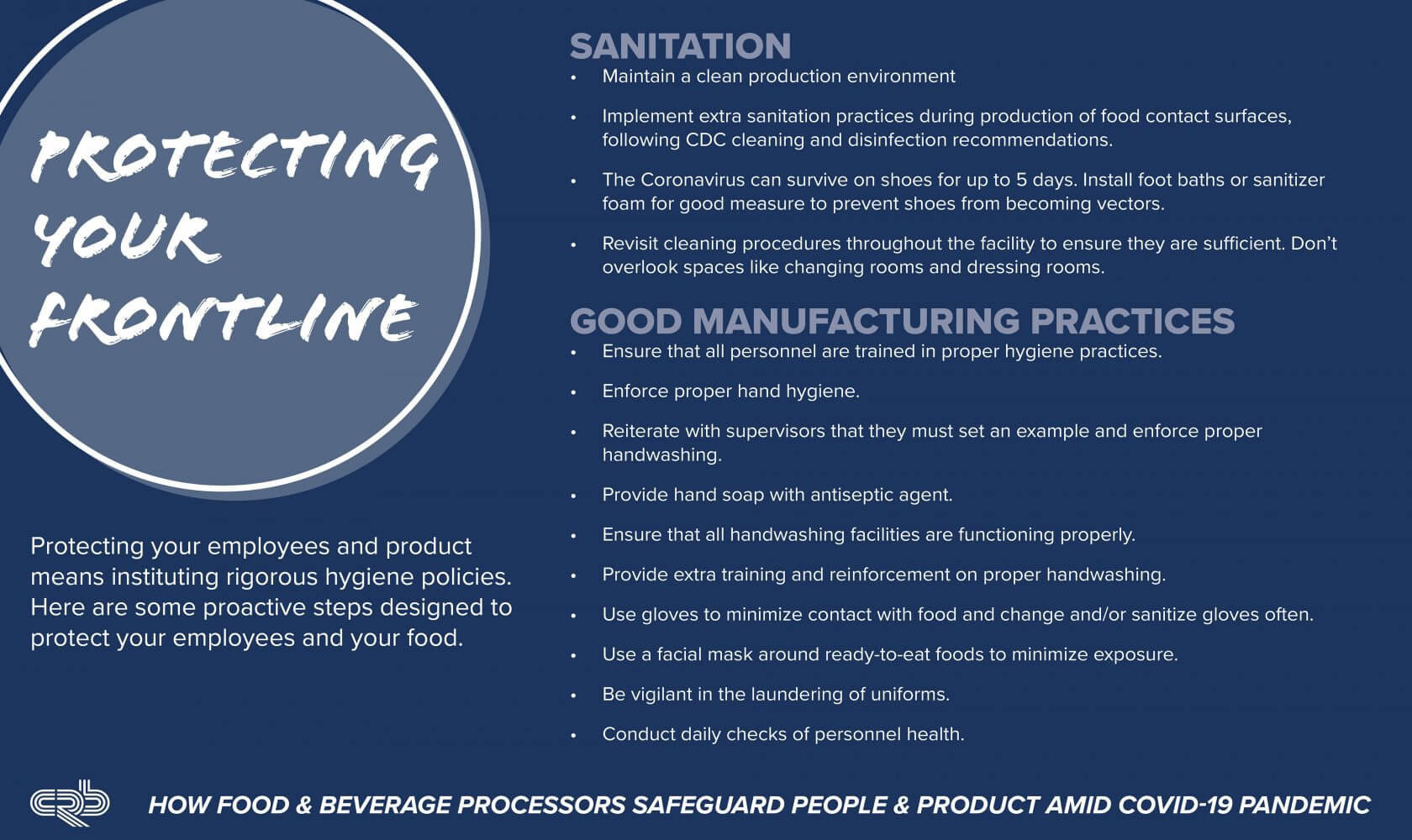 The future of food processing
With some forecasts suggesting we may be living with lockdowns and heightened distancing regimes for another year or more, now is the time to reconsider how your company is safeguarding your people and products.
Pandemics like COVID-19 put added pressures on even the highest-performing manufacturers. Your business, and the industry as a whole, are being tested in a new way. It's imperative to protect your assets—people, plant and product. Ensure your employees have a clean and safe work environment with minimal contact points. Prioritize product manufacturing and distribution in case of a shortage. Pace production with demand by streamlining your company's process and scheduling. Prevent disruptions with suppliers and co-manufacturers. Realign your workforce to better manage employee absenteeism. And, implement a pandemic plan to prepare for closures and disruptions in retail and other operations.
Be proactive in preventing the spread of the virus in your environment. How you respond to the threat will be critical to maintaining your crucial role in the world's food and beverage supply.
We're ready
At CRB, our team is ready to help you prepare and respond in the offensive against COVID-19. Pablo Coronel, Ph.D., Director of Food Processing and Food Safety, is available to discuss proactive measures you can take to safeguard your people and product.
Contact us.
Return to top