Safety by design: a high-rise gene therapy laboratory
Home to dozens of researchers and drug developers focused on gene therapy, this laboratory sits on the top two floors of a 14-story building. The downtown location and skyline views are ideal for employees and scientific collaborators, but is it safe? The answer is yes. Safety by design was a key goal for this project.
From hazardous materials to equipment placement, CRB's team of architects and engineers solved every safety concern that arose. By collaborating with the client, regulators and general contractor to develop actionable practices, we delivered an award-winning facility that is visually appealing, safe to work in and meets the needs of researchers.
Project Details
Client
Amicus Therapeutics
Location
Philadelphia, Pennsylvania
Square Footage
46,000
Hazardous material storage
Building code stipulates that only very small quantities of hazardous materials can be present above the sixth floor. Since storage was not an option at 14 floors up, approved hazardous material cabinets are on the first floor of the building for storing large quantities of liquid materials. A service elevator transfers the hazardous material to the labs.
Recirculating air
A typical lab requires a sizeable amount of ventilation and cooling, yet it's essential to not recirculate the air across multiple spaces. Conventional approaches increase health and safety risks for scientists in the lab and can contaminate their work.
Our solution was to introduce local air recirculation units within the individual labs. This efficient approach limited our demand on the building's HVAC systems by reducing air flow and met peak cooling needs. And because they are localized, there is minimal risk of spreading hazardous materials. A distributed supplemental cooling system, where appropriate, is gaining traction as a solution for laboratories within the constraint of high-rise buildings.
Engineering controls
In their laboratory safety guidance, The Occupational Safety and Health Administration (OSHA) refers to engineering controls as the most effective measure to protect laboratory workers above administrative controls, work practices and personal protective equipment.
CRB implemented many engineering controls to reduce exposure hazards including:
Biological safety cabinets
Fume hoods
Articulated point exhausts
Down draft tables
Equipment enclosures
Transparency
While it makes for a beautiful laboratory, the transparent sightlines aren't just an interior design tactic. By using glass, scientists can see each other from enclosed spaces, allowing for quicker response in an emergency.
Built-In Safety Reminders
Our architects and laboratory planners studied the standard operating procedures and built subtle safety reminders into the design. Black countertops are for research activities and white countertops are for non-research activities. We also implemented wall and floor color at each safety stations to augment the required safety signage.
Planning for a new or renovated lab? Make sure to consider the four technologies that are changing lab safety.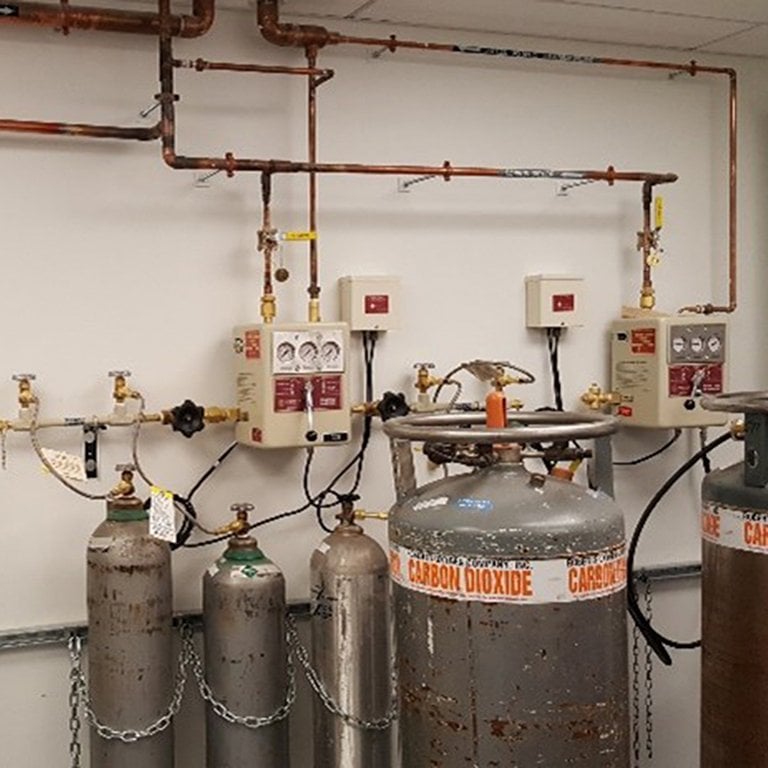 Return to top