Engineers Week is dedicated to showcasing engineers' positive contributions to our daily lives and inspiring a diverse future engineering workforce by sparking interest in pursuing engineering careers. Each year, Engineers Week reaches thousands of schools, businesses, and communities across the U.S.
At CRB, our engineers are immersed in solving critical issues and driving the industry forward. Here are five ways CRB engineers are elevating our quality of life.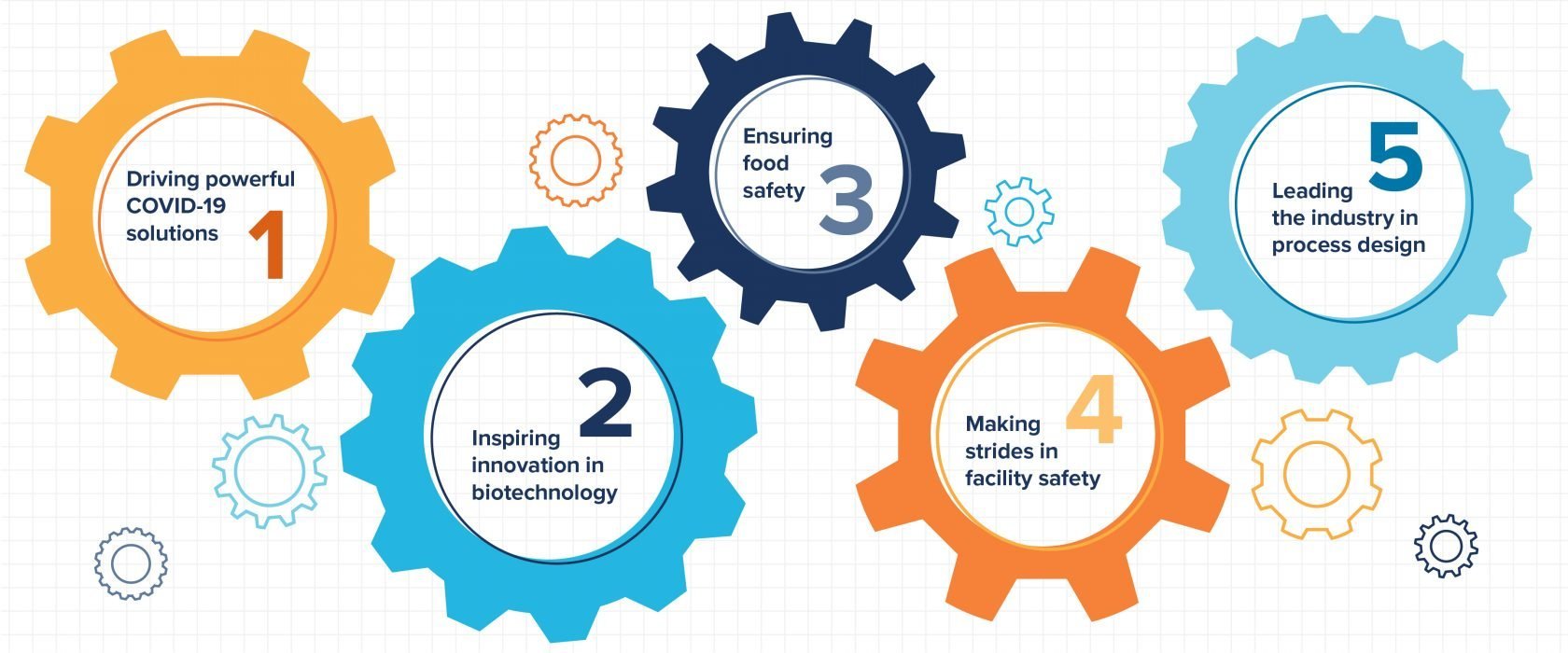 1. Driving powerful COVID-19 solutions
CRB has partnered with more than a dozen clients to respond to rapidly changing market conditions and accelerate project delivery. Given the urgency to create and mass-produce vaccines—while facing unprecedented supply chain issues—CRB engineers have played a crucial role in quickly delivering life-saving solutions to market in the face of COVID-19.


In Grand Rapids, Michigan, we worked with Grand River Aseptic Manufacturing (GRAM) to design a new 60,000-square-foot facility that was selected by the U.S. government to produce vaccines and therapeutics to fight COVID-19. The upgrades will allow GRAM to offer high-speed manufacturing for all commercial batch sizes and allow more space for additional clean rooms to support the increasing pharmaceutical demands. By employing our ONEsolution method, CRB engineers worked alongside our construction team on an accelerated schedule to deliver the facility within 20 months and on budget.
2. Inspiring innovation in biotechnology
As seen in the fight against COVID-19, the ability to quickly respond to market demands proves to be more valuable than ever. With the increasing emphasis on flexibility, traditional dedicated facilities are being pushed aside in favor of adaptable multimodal facilities.
As the life sciences industry embraces the concept of adaptive manufacturing, our engineers employ SlateXpace to create modern, flexible systems capable of quickly pivoting from one drug modality to another. Our SlateXpace solution is designed to facilitate multimodal manufacturing and creates a new standard in agility, scalability, and cost-effectiveness. Various reproducible packages allow for rapid implementation and high versatility to fit any facility footprint.


Coordination between CRB's engineers, architects, and designers leads to innovation in other areas of the biotech industry. For Amicus Therapeutics in Philadelphia, Pennsylvania, we delivered an award-winning research facility. The Amicus research and gene therapy center combined biosafety level 2 labs and office spaces, located on the top floors of a high-rise building, thus requiring innovative solutions to accommodate the necessary mechanical and HVAC systems. CRB engineers also incorporated an aspect of flexibility, to allow the labs to adjust as the science progresses.
3. Ensuring food safety
Engineers at CRB play a crucial role in food safety, designing it into the production facilities we create. Allergen management has become a particular area of concern lately as manufacturers optimize their processing capabilities, but consumers have become more vocal in their need for allergen-free products. In compliance with FDA guidance, manufacturers must adhere to good manufacturing practices (GMP) to avoid cross-contamination and protect consumers from allergic reactions. To control allergens in manufacturing, our engineers consider several factors, including material flow, segregation of process lines and equipment, and facility sanitation when designing a solution.
The high standards we hold for the food and beverage market also apply in the pet food industry. When it comes to feeding their pets, consumers demand food safety and quality. In our work with pet food manufacturers, CRB engineers support the industry's modernization by considering hygienic design, managing temperature control in the facility, and designing for linear flow.

In an ongoing project with Freshpet, we are working with the manufacturer to develop a 400,000-square-foot kitchen in Ennis, Texas. The Freshpet facility is a comprehensive solution that will integrate hygienic design, layout efficiencies, and cleaning and inspection designs that mirror human food processing facilities.
4. Making strides in facility safety
Across industries, facility safety is perhaps the most important aspect of engineering design. CRB engineers are experts when it comes to meeting unique mechanical, electrical, and plumbing engineering requirements for all facilities.
At CRB, Safety by Design is a collaboration method to bring engineers together with our Environmental, Health, and Safety (EHS) professionals to ensure facilities are safe to build and safe to operate. The close collaboration between our engineers, EHS team, and constructors fosters a detail-oriented approach that covers regulatory standards, worker safety, and environmental considerations. Creating a culture that holds safety as a value makes a key difference for our engineers and our clients.
5. Leading the industry in process design
Engineers at CRB are constantly challenging current process designs and are at the forefront of industry trends. Cell-based meat has the potential to change the food and beverage industry by addressing ethical and environmental concerns that plague conventional meat production. However, there is one critical challenge that lies ahead for cell-based meat: scaling up production. Cell-based meat production is a complex and costly process that requires creativity from engineers to make this more accessible. Currently, CRB engineers are working diligently to bring this food of the future to commercial scale.
Our engineering achievements in process design span the globe. After less than five years of establishing an international presence in Germany, Switzerland, and Canada, CRB was recognized as an international leader in industrial process design. The recognition follows CRB's increasing involvement in the global COVID-19 vaccine and therapy effort.
"We're humbled to play such a key role in the COVID-19 response in Europe and abroad, as well as cement our reputation as a trusted provider of design, engineering and construction solutions for companies battling against the varied health threats confronting patients and our world," said Eric Unrau, Regional Leader for CRB's European operations. "Taking our place among industry-leading solution providers is a gratifying validation of our hard work. But we're just getting started, and we are focused on delivering for our clients while supporting our strong employee workforce across the world."
The work our engineers do is not only innovative and challenging but also drives success for our clients and communities. From helping clients respond to a pandemic to establishing processes that protect our food safety, CRB's engineers are integrated into numerous facets of our daily lives. To take on work that can impact your community and join the CRB team, visit our careers page and check out our open opportunities.
Return to top