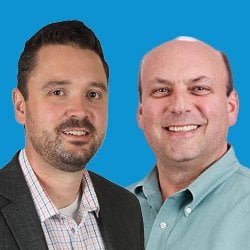 Barrett and Rohs featured in Lean Construction Institute
Feb 22, 2022
As the emphasis on quality in the life sciences sector increases, so does the movement toward Lean project delivery adoption. Mike Barrett and Carl Rohs, CRB's Lean execution method champions, provide expert insight into the benefits of a Lean approach as well as the barriers to implementation.
The benefits of Lean project delivery
Though 60% of organizations continue to rank design-build (DB) and design-bid-build (DBB) as their preferred construction method, the shift toward implementing Lean project delivery approaches is gaining momentum. In fact, the results from the 2021 Horizons Life Sciences survey of more than 500 industry leaders indicate that 39% of respondents ranked quality as the most important driver ahead of scheduling (31%) and cost (30%).
"The overarching goal of a Lean approach is to deliver projects that are on budget, on time, and that provide optimum quality. Seeing a close balance between quality, schedule, and cost here reassures us that there is movement in the sector, even if it isn't as fast as Lean proponents may like."
The established benefits of traditional project delivery methods like DB and DBB may be more appealing to organizations, but Lean methods like integrated project delivery (IPD) and engineering, procurement, and construction management (EPCM) are making inroads. While a majority of survey respondents reported they are "somewhat familiar" with Lean design, it's important to note that 20% of respondents at large pharmaceutical or biotechnology companies reported being "very familiar."
Regulation is a barrier for pharma
The list of barriers keeping organizations from adopting Lean principles is short, with procurement method constraints making up 60% followed by lack of awareness (40%), internal management (30%), and willingness to change (10%).
The considerable amount of regulation on DBB projects guarantees a fair bidding process and, regarding the highly regulated pharmaceutical sector, there can be a great deal of additional work that goes into proving compliance.
"Strong, effective regulatory oversight is all to the good, but too much focus on upfront pricing can preclude the benefits of collaboration, shared risk, and simultaneous implementation—to cite just three of the leading benefits of IPD."
Additionally, the lack of incentive for change may be holding organizations back from adopting Lean principles as long-standing procurement leaders are unwilling to consider alternatives.
Looking ahead
The shift from traditional construction methods to a Lean approach won't happen overnight, maybe not even in this decade. But we're confident that as the recognition of Lean project delivery methods and its benefits increases, especially within primary pharmaceutical manufacturing, so will the movement toward implementing Lean principles.
Read the full article, For Pharma, Quality Boosts Lean, here.