Converting a warehouse into a bioanalytical lab
ICON (formerly PRA Health Sciences), a global drug development partner, needed to expand its laboratory testing services. The vision: to design a new bioanalytical lab facility that would be flexible, efficient, and create a space that encourages collaboration to help facilitate life-advancing therapies across the globe.
We deployed our design services from the start to support the new laboratory's site selection process. We helped determine the best potential lab location based on an evaluation of existing building services, implications of upgrades, cost per square foot for tenant improvements, proximity to their local facility, and employee commutes. Through deep analysis and planning, our client's vision became a reality in an existing 48,000 square foot, multi-tenant warehouse located in the same business park as their Lenexa, Kansas, clinical research facility. Converting a warehouse suite into a laboratory was the solution.
Challenges of converting a warehouse into a lab
When working with multiple criteria, many "blank slate" opportunities can make a warehouse ideal for lab design. However, converting a warehouse into a bioanalytical lab does present several challenges.
Project Details
Client
ICON (formerly PRA Health Sciences)
Location
Lenexa, Kansas
Square Footage
48,000
Cost
$9 million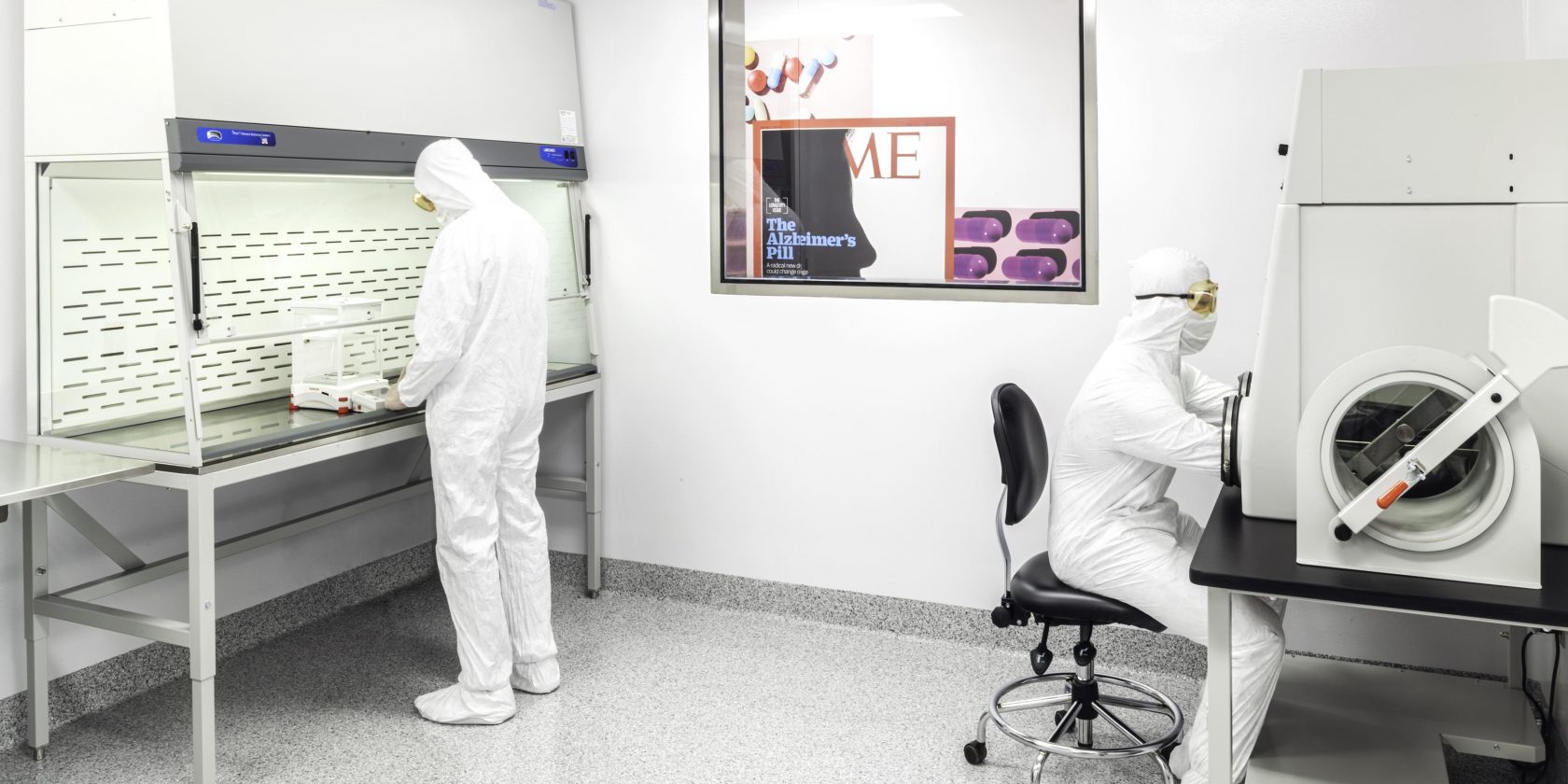 Complex laboratory MEP systems
It's unlikely that a standard warehouse will meet the mechanical, electrical, and plumbing (MEP) demands of a lab, and the project was no exception. The average warehouse plumbing system is minimal, generally sized to serve restrooms, breakrooms and janitorial support. However, laboratories require a spectrum of plumbing fixtures such as lab and handwash sinks, glass wash equipment, emergency eye wash/shower stations and floor drains, all of which increase supply and drainage needs. To meet the service requirements for testing operations, we increased the facility's electrical and plumbing capacity. Sanitary waste lines were upgraded when an analysis determined waste demand would require 78% of the building's drainage fixture units—a large amount for a warehouse with multiple tenants. To further account for the lab's complex utility needs, a backup generator was adopted to provide uninterrupted power to critical infrastructure.
In addition to adequately sized MEP systems, the location of major MEP equipment is an essential factor when converting a warehouse into a lab. If improperly placed, bulky MEP equipment can be intrusive and impede upon a lab's functional floor space. To maximize PRA's floor space, we looked up.
CRB's mechanical design team considered placing the lab's air handling units on the roof, but also evaluated the idea of building an interior mezzanine to house the units. The warehouse's roof would've required significant structural reinforcement and an additional length of ductwork. Fortunately, the warehouse floor-to-roof height was 35 feet, which allowed sufficient room to build an interior mezzanine. A mezzanine was preferred because it could be sized to accommodate future expansion, the equipment would be located inside—increasing the life expectancy of the units—and it would be easily accessed from either inside or outside the building. Analysis of the two solutions concluded that the mezzanine would also be a more cost-effective option for housing the units.
Scaling a laboratory within a warehouse
As any Strategic Facility Planner can tell you, future operations growth and facility expansions can be costly if not appropriately planned from the start. With future growth in mind, as a consideration early in the project. Not only was this a factor for site selection, but it also allowed CRB to strategically plan for future growth and to right-size mechanical and electrical services that would support it. Great care was taken to place laboratory functions with potential growth adjacent to the expansion area and to place staff amenity spaces in a central location for convenient access when the future build-outs occur.
Converting a warehouse into a people-friendly environment
Just because the new lab would be located within a warehouse did not mean it needed to look or feel like a warehouse.
Due to the inherent nature of warehouse design, the space had a limited number of windows. While there are many functions of a lab that are better served by interior space, windows provide the natural light vital to a healthy work environment. As such, offices and common gathering areas were strategically placed along the windows. In the spacious, high-volume corridor that separates the office and lab functions, solar tubes were installed through the warehouse roof to introduce natural light and have proven highly effective. Additionally, the CRB interior design team worked closely with our client's branding consultant to integrate color and murals throughout the facility. The result was a bright, colorful space that tells the story of the research conducted within the laboratory.
A satisfied client
What was once a bare warehouse space is now a flexible and efficient bioanalytical lab space that celebrates the brand and work. Through a collaborative ONEsolution™ approach, CRB delivered this project with a unique, full-service delivery method which enabled the project to be delivered on time and under budget.
If you're considering adaptive reuse of a warehouse for your laboratory project, please connect with us. CRB can work with you to evaluate, plan and produce the best possible project to meet your needs.
Gilda Viets
About the expert:
Gilda has over 30 years of experience as a designer. She has had the opportunity to work on a variety of projects, with an emphasis on designing laboratories in advanced technology facilities. Throughout her career, she has been responsible for managing client relationships and assembling and managing project teams. She is knowledgeable in all phases of design, and has extensive experience with construction documentation and construction administration duties on various projects.
Return to top