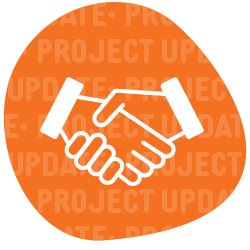 Wheeler Bio, CRB announce kickoff of manufacturing facility
Nov 3, 2022
Contract Development and Manufacturing Organization (CDMO) Wheeler Bio and CRB  today announced the start of construction on a GMP drug substance facility that will support innovators seeking agile, small batch manufacturing services for their clinical trial materials (CTM).
Wheeler is the newest member of Oklahoma City's innovative biotech hub.  Housed in the ultra-modern Ziggurat building located in downtown OKC, Wheeler is making no compromises in establishing state-of-the-art biomanufacturing in their 35,000-square-foot brownfield space.  With closed processing and ballroom designs engineered by CRB and cleanroom construction partners, Lingo Construction Services, Inc., Wheeler is capitalizing on the latest innovations in cleanroom concepts allowing for exceptional agility that will better serve the needs of the early clinical phase developers.
"I am thrilled to announce the kick-off of our latest capital project to establish Wheeler's first GMP drug substance manufacturing capability in Oklahoma City," said Jesse McCool, CEO of Wheeler Bio. "The caliber of collaboration so far among stakeholders including Wheeler, CRB, and Lingo has been truly impressive resulting in a detailed design that is a perfect reflection of our vision of an agile, phase appropriate, 'smart factory'."
"This design gives us the ultimate flexibility in manufacturing operations while maintaining quality and regulatory compliance. We are excited to provide the best-in-class CDMO services through our modern facility design, robust risk management, and advanced automation infrastructures," said Yuk Chun Chiu, CMO of Wheeler.
Ashley Reynolds, Market Team Leader of CRB states, "As the prominence of biologics grows in the global fight against viruses and disease, we're honored to work alongside Wheeler in providing flexible spaces that can support the continued evolution of this important work."
Once complete, the facility will include ballroom GMP production suites, QC lab, GMP warehouse, and offices, providing Wheeler's customers with master cell banking, drug substance manufacturing, testing, and release services.