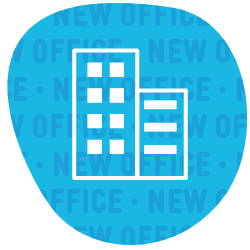 CRB opens new office in New Jersey
Jun 6, 2023
CRB announces its 22nd office opening in Bridgewater, New Jersey. The office becomes CRB's fifth Northeast location, joining spaces in the Philadelphia, Boston, Washington, D.C. and Toronto, Canada, areas and bringing the company's innovative project delivery teams and subject matter experts even closer to clients in one of the largest and most influential biopharma clusters in the world.
The office, which adds to 21 existing CRB locations across the U.S., Canada and Europe, is led by Paul Shapiro, CRB's New Jersey Director and Office Leader with more than 30 years of experience in engineering design, leadership, and project management. Drawing from CRB's deep bench of internationally recognized industry thought leaders, the New Jersey office positions CRB to capture an even larger share of the Northeast biopharma market. Clients are increasingly seeking integrated project delivery, design, construction, pre-construction and procurement services to scale their products from research and development through to commercial-scale production.
Shapiro is among CRB's project leaders with deep experience in the company's ONEsolution™ lean project delivery approach, which leverages the combined expertise and technical excellence of a single project team to align with clients on cost and schedule without sacrificing safety or quality. The approach has been critical to the global COVID-19 response, with several vaccine manufacturers partnering with CRB's design and construction teams to deliver facilities that could quickly address the world's urgent vaccine demand.
"Opening in New Jersey keeps us close to new and core clients while providing us direct access to the region's wealth of engineering, design, construction and architecture talent," said John Costalas, Vice President for CRB's Northeast region. "The Northeast U.S. is a global driver of innovative therapies and drugs that are critical in the war on disease, and we're privileged and excited to support our clients from the New Jersey, New York and Connecticut Tri-State Area."
With easy access to highways and numerous popular dining and retail options, CRB Bridgewater is convenient for clients and employees and just an hour's train ride from New York City. The office itself is an expression of CRB core values with an employee-centered collaborative and daylit environment. Significant investment in furnishings and technology will support an in-office experience consistent with CRB's offices around the globe. Additional building amenities include a fitness center, cafeteria and an outdoor courtyard for client and employee gatherings.
CRB's New Jersey office is located at 400 Crossing Boulevard in Bridgewater.