Idle warehouse transformed into oligonucleotide synthesis manufacturing facility
CRB helped to transform an idle warehouse and packaging area into a state-of-the-art GMP manufacturing-based facility.
Challenge:
Minimize the need for tech transfer and

 

costly facility retrofits from product to

 

product

 

Right-size the facility for current needs, but

 

minimize the facility impact of an increase

 

in manufacturing throughput

 

Accelerate the time of drugs to market, and

 

manufacture faster

 

Utilize existing infrastructure to the greatest

 

extent possible

 
Result:
The result of the oligonucleotide synthesis manufacturing (OSM) project is a facility sized for initial needs, with the ability to flex production capacity with the inherent uncertainty of the market and product pipeline. The OSM facility is designed to comfortably handle the client's current development, clinical, and small-volume commercial demands, while allowing for a transition to process multiple products and large-volume commercial production. 
Due to close collaboration in project execution, this project went from a design concept to an innovative, validated, operational facility in just 16 months. The manufacturing process is housed in 3,600 square feet of processing space comprised of a synthesis suite, weigh/dispense room, tote storage area, elevated mezzanine and deblock platform, located inside what was a high-bay warehouse area. An additional 1,750 square feet of process support space is comprised of refrigerated raw material storage, control room, equipment storage, a future lyophilization room, and associated airlocks. The remaining project square footage – approximately 8,650 square feet of facility and exterior support areas, is comprised of first and second-floor mechanical spaces, a walkable ceiling area, a bulk organic waste vessel and fire water containment pit.
How we helped:
1. Repurposing under-utilized space
The re-use of physical facility space, paired with taking advantage of existing equipment and utility infrastructure, helped to keep capital project costs low and eliminated the need to further develop greenfield space. Throughout the project, the team remained diligent about avoiding unnecessary footprint expansion into other adjacent free space to keep those areas free for future needs and hold the current project build-out costs down.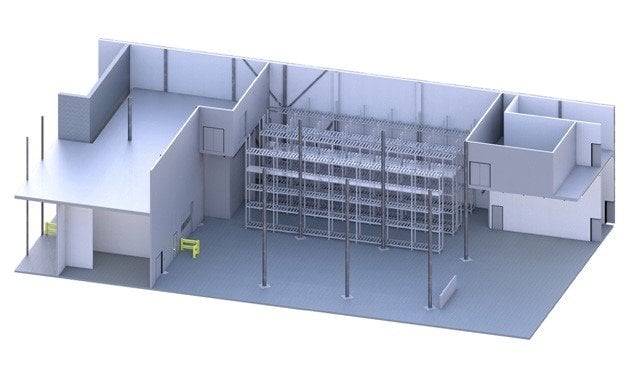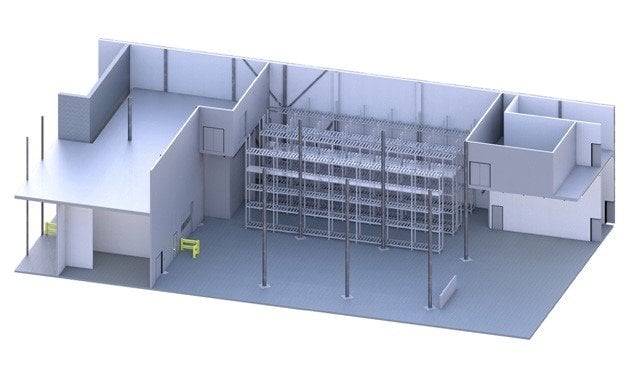 Existing space prior to construction
As-designed facility layout
2. Manufacturing technology
The process basis behind the facility build-out was an integration between the novel upstream oligo syntheses technology, and the adaptation and utilization of proven downstream recovery and purification technology for large molecule (biotech protein) purification suites. The latter allowed for the use of existing operations and capacity to be applied to the oligo-based products with minimal additional capital investment.  
One of the novel aspects of the fundamental oligonucleotide technology behind the project was the flexibility of the technology itself. The novel chemistry allowed the client to meet a number of unmet clinical needs, targeting genetic-based diseases through partial DNA sequence matching to the genetic signature of the aberrant target cells. 
The added benefit of using the existing downstream purification platform is that it reduces hazardous chemical consumption and waste production by 50%.
3. Collaboration and execution
This project was a true collaboration in all aspects of its execution. The client assembled a multi-disciplinary design team internally, in addition to partnering with CRB and a development partner, all of whom were involved from the early conceptual efforts through construction and start-up. 
The facility was configured to enhance both operational flexibility and provide for essential collaborative spaces where the production and development staff can co-exist and leverage each other's capabilities through proximity, while maintaining the necessary oversight of the process operations which are underway. Facilitating cooperation between process development and manufacturing empowered the client to bring new treatments to clinic, and to market, faster. 
4. Sustainability and safety
Due to the use of hazardous/flammable solvents, there needed to be particular focus on operating safety, and minimizing exposure of operators to hazards within the facility. Safety systems were put in place during the planning and design, creating an environment for operators that is not just safety focused, but also ergonomically beneficial. Processes are closed wherever feasible and practical. Spill containment in the form of trench drains directs spills out of the space to a collection tank, protecting adjacent areas from hazardous materials. Processing and raw material handling operations are performed within fume hoods, ensuring that fugitive vapors are removed, and equipment is designed to meet stringent safety requirements in areas with elevated electrical classification. Life safety monitoring throughout the facility detects oxygen and solvent vapor concentrations in the air in case of an emergency, alarming well before a health and safety hazard would exist.
5. Flexibility to expand
CRB emphasized being able to seamlessly move from clinical production using raw materials supplied in 1250L totes, to quickly expanding capacity via tanker–based supply, without the need for significant structural modifications to areas of the facility directly processing product. Increase in scale would result in the reassignment of highest-use solvents from large totes to future bulk tanks in the yard. A pipe bridge installed in the initial build-out was designed to support the use of these future bulk tanks. The removal of large 1250L totes from the tote storage room would free up space for a simple expansion of the synthesis suite, with space allotment for a full second set of core process equipment, to double throughput. 
The end result of the facility master planning and design efforts is a suite that, with minimal impact to architecture and structure, will be able to support at least 10 times the manufacturing capacity it has seen on Day 1, and a broad array of oligonucleotide products – with future capital investment focused on equipment, not sweeping facility retrofits and re-design. 
Return to top