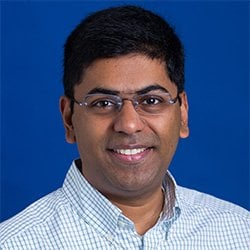 Kulkarni to present at ACHEMA
Jul 11, 2022
ACHEMA is back with manufacturers and service providers from over 50 countries expected to gather for this year's six-day forum in Frankfurt, Germany. The event centers on chemical, pharmaceutical and biotech research and manufacturing. During this year's event, CRB's Senior Director of Consulting Services, Niranjan Kulkarni, Ph.D., will present a data-driven strategy for planning new ATMP facilities within the overarching program, "Digital Twins in design and Maintenance."
August 24 | 16:17
Designing and operating new ATMP facilities for manufacturing under uncertain conditions is challenging and risky. And, uncertainties can appear from numerous sources–varying potential demand for any given new therapy, platform/technology involved, equipment reliability, operator learning curves, possible sourcing issues and lead times for key raw materials. All these factors influence facility sizing, equipment quantities, headcount required, and subsequently, the cost of goods.
Computer modeling and simulations improve the understanding of manufacturing, warehousing, QC operations, fluid flows, material/personnel movements and supports the development of an optimal facility design. Dr. Kulkarni will outline the use of process models and discrete event simulations for designing and right-sizing ATMP facilities. This applied research provides an overview of the simulation techniques and discusses best practices that should be followed to complete a successful modeling and simulation study. Proof of concepts and real-life use cases for these techniques will be presented.
See full ACHEMA event details and register here.