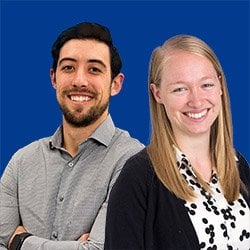 DeHart and Page-Belknap to receive USGBC Volunteer Leadership Award
Jul 14, 2022
2022 Volunteer Leadership Award
The U.S. Green Building Council (USGBC) National Capital Region recognizes CRB's Maya DeHart & Zach Page-Belknap for their level of dedication with the 2022 Volunteer Leadership Award. DeHart and Page-Belknap were nominated by the USGBC NCR Leadership Advisory Board members for their passion and stewardship of USGBC's mission in NCR's green building community. The 2022 Volunteer Leadership Award is a part of the organization's Community Leader Awards.
USGBC is a nonprofit organization that promotes a greener world through LEED, a climate action system for the education and development of sustainable buildings and communities.
Maya DeHart & Zach Page-Belknap will be honored during the Community Leader Awards Ceremony at Arena Stage Theater in Washington, DC.