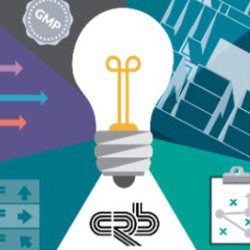 Webinar: Emphasizing flows and functions – How intuitive design can enhance the functionality of an ATMP manufacturing facility
Jul 13, 2022
Join CRB's Jan Bondoc and Shany Albalak as they discuss approaches to integrating insightful design within an ATMP manufacturing facility and how integrating these features into the design process can lead to enhanced operations and overall experience.
Emphasizing flows and functions – How intuitive design can enhance the functionality of an ATMP manufacturing facility
Tuesday, August 16th, 2022 at 11 AM EDT
Thoughtful planning combined with wayfinding strategies such as signages, visual design cues, and color schemes can cohesively reinforce the flows and process in an ATMP manufacturing facility. Additionally, they can also contribute to the wellbeing, productivity, and overall operator experience. Introducing these features into a GMP compliant space can present many benefits, but historically have not been integrated in the design process.
In this webinar, you will hear about:
• Reinforcing GMP compliance and improving operator experience
• Optimization and efficiency using wayfinding strategies
• Design examples: case study for an ATMP manufacturing facility
Register for the webinar here.