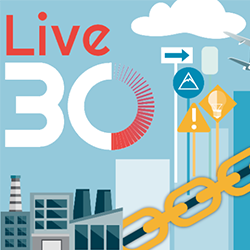 Webinar: Strategic supply chain design: flexibility and scalability considerations for optimal facility design
Apr 12, 2022
Join CRB's Niranjan Kulkarni and Grace Linton as they discuss the development of individualized medicines, one of the greatest promises of the biopharmaceutical industry. These experts will tap into how the pipeline of advanced therapies is expanding and how the services required to develop these therapies are in more demand than ever.
Strategic supply chain design: flexibility and scalability considerations for optimal facility design
Thursday, April 28th, 2022, 11AM EST
With new developments in the market, and high demand comes complex challenges with scalability. This presentation will explore C&GT supply chains challenges and drill down to its impact on facility operations and sizing concerns. We will focus on autologous therapies while discussing commonalities and differences with allogeneic therapies.
This webinar will dive into:
How to approach facility readiness to unforeseen and often long-lasting supply chain issues
How to appropriately size the spaces and systems around uncertainty
How to include flexibility and phasing considerations in facility design
Register for the webinar here.