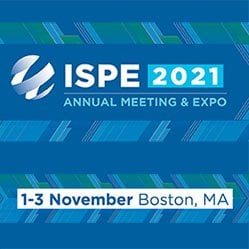 Connect with CRB at ISPE Annual, 2021
Sep 22, 2021
CRB is proud to participate in the biggest pharma event of the year, the 2021 ISPE Annual Meeting & Expo.  In addition to Niranjan Kulkarni, PhD, and Namya Syal, PE, leading conference sessions, CRB's SME's will also be presenting two educational seminars on topical areas of expertise:
CAR-T and the Future: A Scalable and Flexible Future for Gene Therapy Production
Nov. 1 | 15:00 – 16:30
Speakers: Carissa Marak
The future of gene therapy and defending our global population from disease—those we know and those to come—requires new nimbleness for development and manufacturing. Speed and flexibility are at the forefront of current life sciences trends. Innovations like adaptive facilities and ethical supply chains enable advances in targeted treatments like precision medicine, as well as help shorten the research life cycle. All of this is progressing with the health and well-being of the global population in mind. The more we can implement solutions to benefit people—quickly and effectively—the better. This presentation will discuss the science and technology behind Umoja Biopharma's emerging approach that leverages a range of synergistic innovative technologies to develop scalable, next-generation cancer immunotherapies. Additionally, we will discuss how facility design is changing to keep up with this rapidly evolving field. We will discuss practical tips and design solutions that can support how to make these facilities work both financially and with GMP standards.
Project Management in a Warp Speed Environment: Applying Warp Speed Lessons to Your Next Manufacturing Facility
Nov. 2 | 14:00 – 15:30
Speakers: JP Bornholdt
Many of the life sciences trends that are driving innovation today were here pre-COVID, but the pandemic was an accelerant. This is true of the vaccine research that is moving at rapid speed to curb this acute global crisis, but it doesn't stop there. The same tide is lifting all areas of the life sciences industry. This is particularly true for advanced therapy medicinal products.
The pandemic is pushing the envelope on speed-to-market to the point that facility design and construction may be experiencing a paradigm shift. The tried-and-true approach needs to be revisited as Operation Warp Speed is demanding the biopharmaceutical industry to navigate uncharted territory.
During this presentation, we will highlight lessons learned from a Warp Speed project and provide advice and new approaches on how to apply these lessons to the future of ATMP manufacturing. Additionally, we will discuss code, safety and regulatory considerations to keep your project on track while navigating this paradigm shift.
ISPE's 2021 Annual Meeting and Expo is a hybrid event taking place October 31st – November 3rd. Register and view the full agenda here.